As an Amazon Associate, I earn from qualifying purchases.
A pomade can be a great styling aid for your hair, no matter what type. It helps style and keep in place the most stubborn of hair, allowing you to keep a greased nice look or style it in any other way you want.
When shopping for a pomade, you need to first consider the type of pomade you want, water or oil based. Water based pomades doesn't give you as much shine or strong a hold as oil based pomades. They are also relatively easier to wash out while giving you a more natural styling look. Oil based pomades have a stronger hold and can even provide nutrients your hair needs for a nice shine while keeping you looking stylish throughout your hectic day.
If you have curly hair, it can be a little extra tough for you to find a pomade that works. You will need one that provides strong hold for a longer period of time. We have handpicked the 3 best pomades for men with curly hair.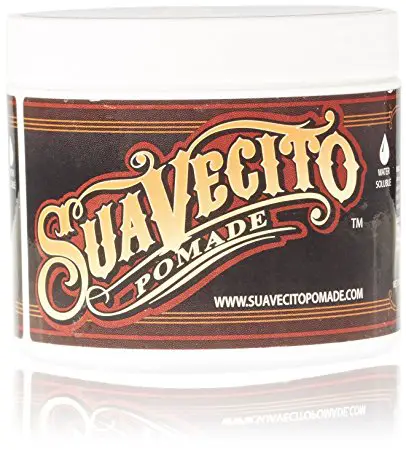 Our Rating:
Cost: $
Pros
Controlled and sleek style
Allows you to restyle
Pleasant smell
Cons
Has a greasy look on thin hair
If you were to base the performance of Suavecito Pomade on its packaging, you wouldn't expect much. The packaging seems a bit out-dated and isn't the most appealing design wise but do not let that fool you. The pomade provides superior hold, perfect for curly hair, even though it is water-based.
When it comes to pomade, you want one that enables you to run your finger through your hair with ease. Nothing that hardens your hair like gel does. The Suavecito doesn't leave your hair feeling tough at all for easy styling while providing excellent hold. Being water soluble, it doesn't leave any flakes and is not difficult to wash out. The best part is, it has a nice pleasant scent which can be appealing for the ladies.
No matter what style or hair type you want, you can't go wrong with Suavecito. Along with its exceptional performance, it is reasonably priced so won't put a dent in your wallet.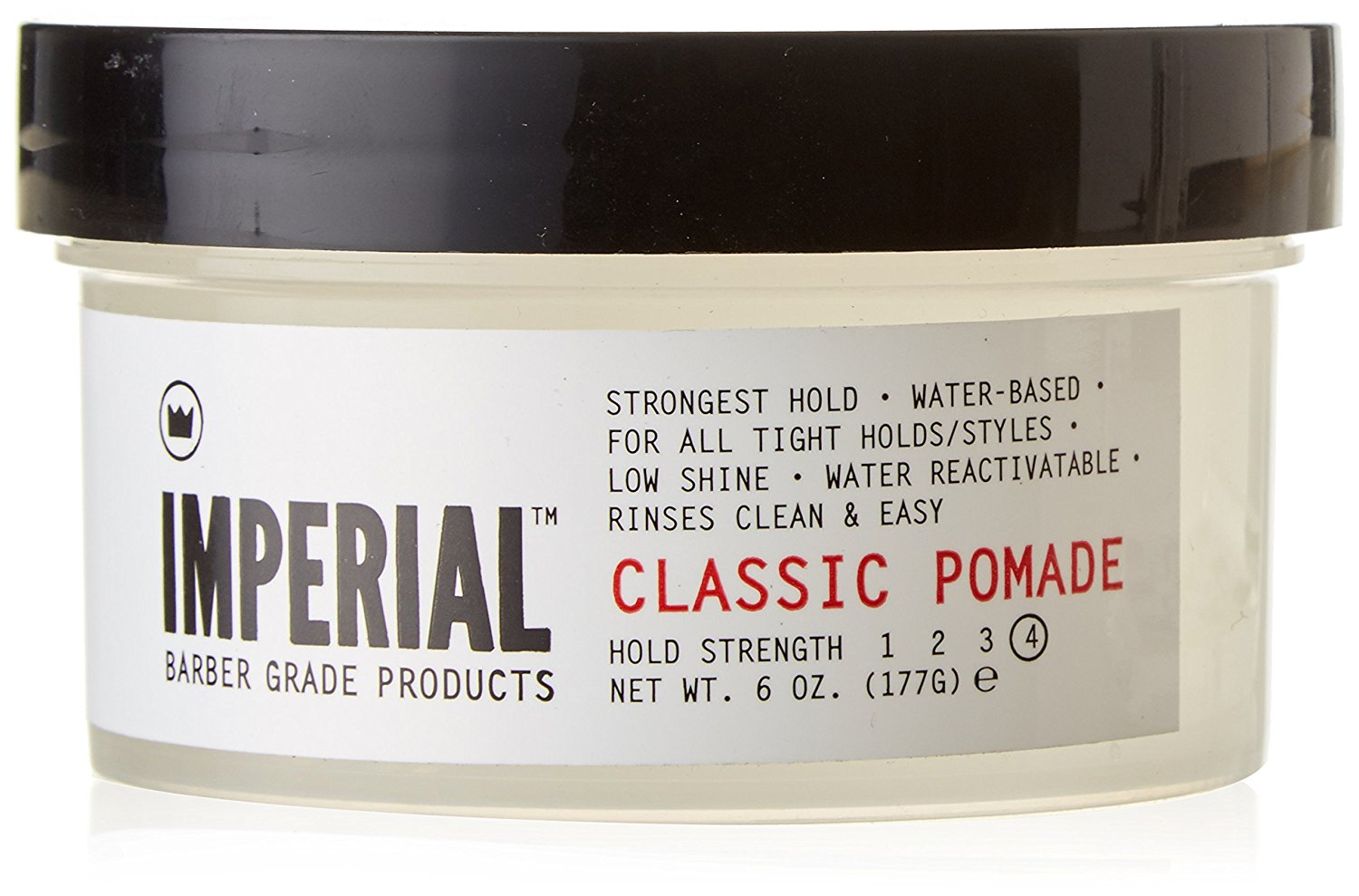 Our Rating:
Cost: $$
Pros
Strong hold
Easy restyle with help from water
Great styling support for unruly hair
Cons
Needs to be washed out daily, otherwise leads to buildup
If you are looking for a pomade for both thinning and curly hair the provides superior hold then look no further than Imperial Barber's Classic Pomade. Just one simple stroke of the product in your hair allows you to lock your hair into any style you want. It is highly recommended by barbers all over the country.
The Classic Pomade provides an exceptionally durable hold. Slightly stronger than Suavecito. What surprises us is the fact that even with the strong hold, it doesn't harden your hair at all and allows for comfortable styling. If you want to restyle it during the day, all you have to do is apply some water and give it a go. It doesn't leave your hair looking greasy and is not difficult to wash out.
We did have a slight issue with the scent of the pomade. It has a slightly fruity smell, which can make it seem a bit feminine. But for those that are secure in their masculinity, not allowing the fruity scent to hinder their choice. The Classic Pomade by Imperial Barber is perfect if you want superior hold for your curly hair.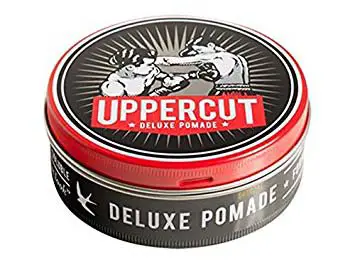 Our Rating:
Cost: $
Pros
Water-based pomade
Great scent
Second to Imperial Barber's Classic in hold
Cons
Not the best pomade to use if you plan on restyling throughout the day
If you are looking for gel type hold, without your hair hardening or looking unnatural then we recommend Uppercut's Deluxe Pomade. The pomade enables you to style your hair while also adding a little volume to it, making your head look much fuller. It also leaves a nice matte finish look on your hair, not making it too shiny.
If you have a hectic day ahead of you and want a pomade that will provide you hold throughout then Uppercut Deluxe Pomade is for you. Even an hour of workout at the gym won't mess with the hold of this pomade. However, it is also easy to wash out since it is water-based. The scent of the pomade will have you smelling like summer, with a mixture of vanilla and coconut fragrance. For the best style and volume, we recommend you pair this pomade with a nice hair dryer for a nice natural look. So knockout your unruly hair with Uppercut Deluxe Pomade.
No matter how curly or unruly your hair is, all three of the pomades on our list can help you tame and style your hair. There isn't too much difference in their price either so you can easily try them all if you feel the need. If you want medium hold with the ease of restyling then Suaviceto is the best fit for you. If you want a strong hold then Imperial Barber's Classic Pomade is great but it does have that fruity scent. If you are looking for a pomade that gives you a wonderful scent of coconut and vanilla while also adds volume to your hair then we recommend the Uppercut Deluxe Pomade. Performance wise, all there are wonderful so it all depends on your preference.
Amazon and the Amazon logo are trademarks of Amazon.com, Inc, or its affiliates.