As an Amazon Associate, I earn from qualifying purchases.
When you go hunting, the last thing you want to worry about is how cold, sore and wet your feet are. Unlike other clothing material, you can't really take your boots off when they bother you since you will be constantly moving. So why take a risk ruining your hunting trip by getting boots that are not suited for your trip.
We realise that with so many brands and different types of hunting boots, it can be tasking deciding the best pair for you. So we tested numerous boots on your behalf and have handpicked the 5 best hunting boots for any condition.
Our Rating:
Cost: $$$$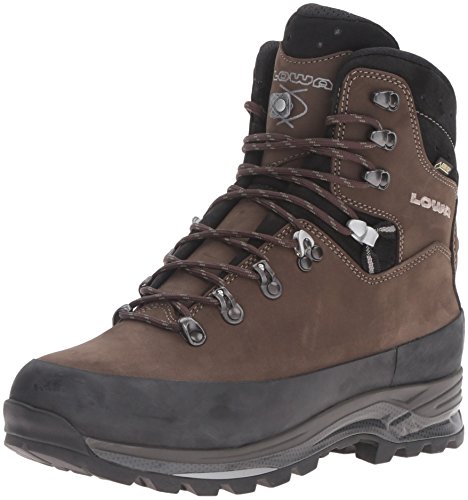 When it comes to products, you know you can't go wrong with German engineering. Lowa has consistently produced high-quality boots made from long-lasting material. That is the reason why the Tibet GTX Hi is on the top of our list.
From the moment, you put your feet in the boots you will feel the cushioning and comfort. Like any other boots, it will take you a day or two to break them in but once you do, you will not want to take them off. No matter how rocky the terrain is, you will not feel any discomfort when you have the Tibet GTX Hi on. It also provides great grip so you can easily manage through mud or rocks.
To ensure you get proper ventilation, the boots have perforated air channels so heat is transferred out keeping your feet cool. Overall, these are the hunting boots for any terrain as they provide you ease while easily managing your way through rough terrain. It does come with a hefty price tag, but it's definitely worth every penny.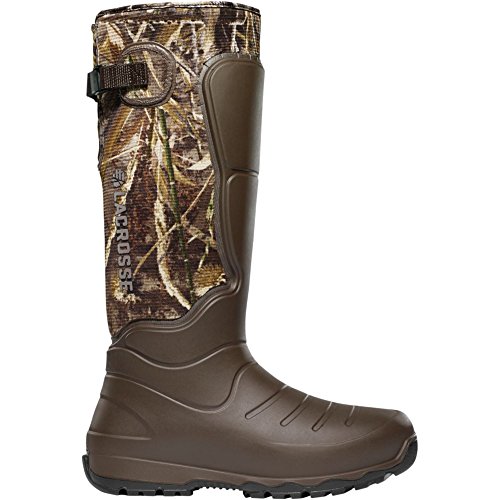 Our Rating:
Cost: $$$$
If you are looking for decent quality boots on a budget, then look no further than the Lacrosse Aerohead. In business since 1897 Lacrosse has perfected the craft of boot manufacturing. Made with neoprene and layered liquid polyurethane, the boots offer you comfort and keep your feet nice and warm even in the coldest of climates. The build also ensures you get protection from sharp thorns and other external factors that may pose a threat.
The Aerohead is fairly easy to put on and take off, you just have to slip it on. You get exceptional support for your entire feet, from the ankle to the heels. You won't feel much discomfort even after hours of hunting and walking in these boots. Overall, if you are looking for knee-high boots that provide exceptional support at a reasonable price then the Lacrosse Aerohead is the perfect fit for you.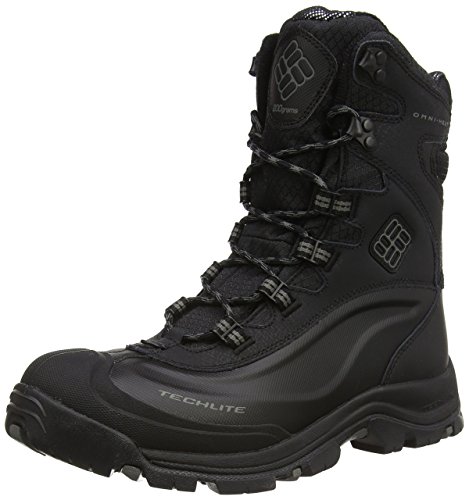 Our Rating:
Cost: $$
If you want heavy duty boots that will provide support and comfort on your trip then we recommend Columbia's Bugaboot Plus III. Made to withstand cold weather, these boots are perfect for hunting and hiking. They are durable with a thick rubber sole which makes breaking them in quite easy.
The boots provide great support for your ankles, properly covering them to ensure you don't twist or tweak them as you walk on rocky surface. Even though these boots are good for extreme weather, they are not completely waterproof which can be a problem if your trail has bodies of water. They are heavier than the first two boots on our list. Overall, if you are expecting to trek a lot while hunting then these boots would be a wonderful companion for you. Otherwise, the Aerohead or Tibet GTX Hi are more suitable for your hunting expedition.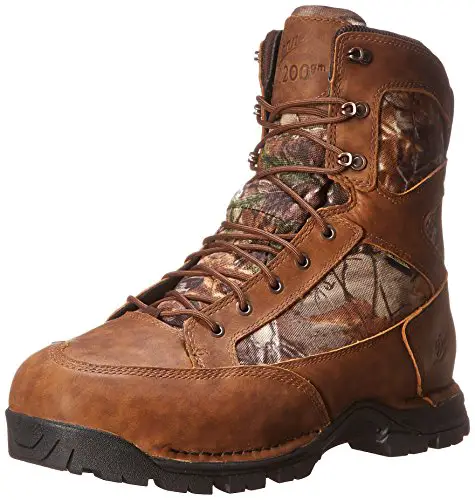 Our Rating:
Cost: $$$
Whether you plan on hunting in tough or damp terrain, the Danger Pronghorn will give you the performance you need. With a stylish design, the boots are made from durable dual-texture material with GoreTex linear to ensure your feet get comfort and air. It has a thick rubber sole which easily takes shape around rocky terrain to ensure you don't disbalance.
We wouldn't recommend the Pronghorn's for hunting in warmer weather as they have heavy insulation which can pose a problem in warmer temperature. They are however, lightweight and perfect for hunting at high-altitudes and cold weather.
Out Rating:
Cost: $$$$$
If you are planning on hunting in the high country then the Kenetrek Mountain Extreme are the ideal boots for you. With a sturdy build, they are ideal for any weather and provide exceptional grip no matter how challenging the ground. The inner sole is comfortable giving your feet comfort and protecting you from blisters.
The boots are on the heavy side weighing a little under 5 pounds. However, they provide great support for your feet and ankles, running up to your calves. The insulation layer isn't as thick as we would like so if you plan on going hunting in freezing temperature, you may want to pack extra thick and warm socks. Overall, these are great boots but you have much better options of boots that provide better support at lower price.
Hunting should remain a fun game, so you should ensure you are comfortable when you go out to hunt. If you want to enjoy your hunting experience, then you can go with any of the five boots on our list. We do highly recommend our top two though, Lowa Tibet GTX Hi and Lacrosse Aerohead, as they provide the most comfort and support. So no more blisters or aching feet on your hunting trip.
Amazon and the Amazon logo are trademarks of Amazon.com, Inc, or its affiliates.