As an Amazon Associate, I earn from qualifying purchases.
What exactly is a bottle warmer?
Baby bottle warmers are exactly what they sound like. It is a device designed to heat the nutrition – mostly milk – you're giving to your little ones conveniently. Most are able to fit jars and bottles of various sizes of bottle. As they are generally quite affordable, they might prove to be a nice investment for fresh parents looking to provide the best to their babies.
Do you really need one? Why?
Although this article's focus will be to provide you the best baby bottle warmer products currently available, it should be stated beforehand how a bottle warmer is not really mandatory. Whether you really need one or not is a question of how much you value convenience, more than anything. There are other alternatives in warming milk, and should you decide to abstain from giving your babies heated milk in the first place they probably will not even end up developing a liking to it.
Should you decide to do so, however, and there are reasons to do so, a bottle warmer is a safe choice particularly suited for the long, late hours. Imagine your baby waking up at 3 a.m., crying and you having to feed him. Using a bottle warmer keeps your hands free, so that you can focus on your crying baby – which goes a long way when you're still half asleep and considering babies generally won't stop crying unless you hold and cuddle them.
Products
The following products were chosen based on their ease of use, safety, health and overall quality. We believe the following list comprises a solid collection of bottle warmers for parents interesting in acquiring the best, bang for their money gadgets for their babies.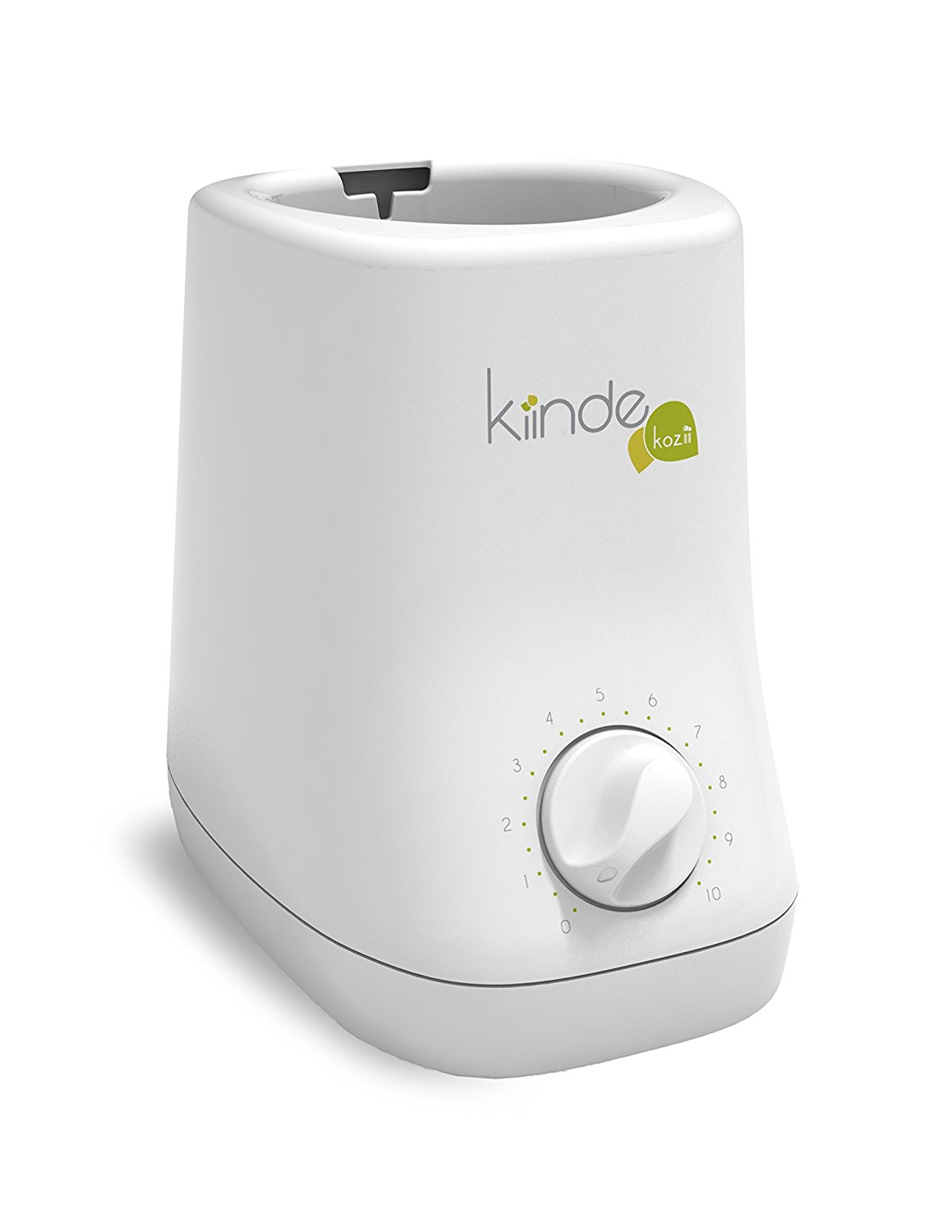 Using a technology termed SAFEHeat, Kiinde's bottle warmer is designed to follow all guidelines set forth by the Center for Disease Control to maximize safety. Included is a warming time chart, with recommended settings for a starting point, in order to avoid overheating. Set-up times are null, as Kozii's bottle warmer is a one-piece design, and extremely easy to use. Naturally, despite it being simple to use, one should take a look at the Instruction Manual of the package though.
A notable downside is how this product does not make a big enough beeping sound to signify when it's done. One might have to use a separate alarm. All in all, though, this Kiinde delivers. We would recommend this product.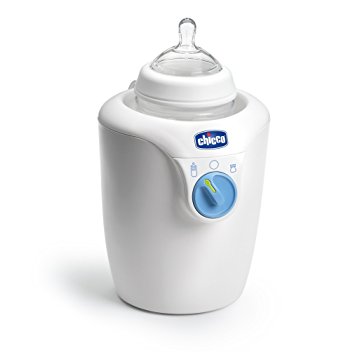 This highly versatile warmer can fit warm bottles or baby food jars of all sizes and materials. It is fast, safe and easy to use, able to stay warm for up to one whole hour. It shuts-off automatically, so parents have one less thing to worry of. Overheating is no issue, as there exist only two settings – one for bottles, one for baby food -, with no option to max out the dial. Relatively cheap compared to other products we reviewed, this is an excellent value-for-money choice for parents with a tighter budget.
Its most notable downside is how it takes a bit longer than most to warm up, and one should first wait for it to cool down before subsequent use.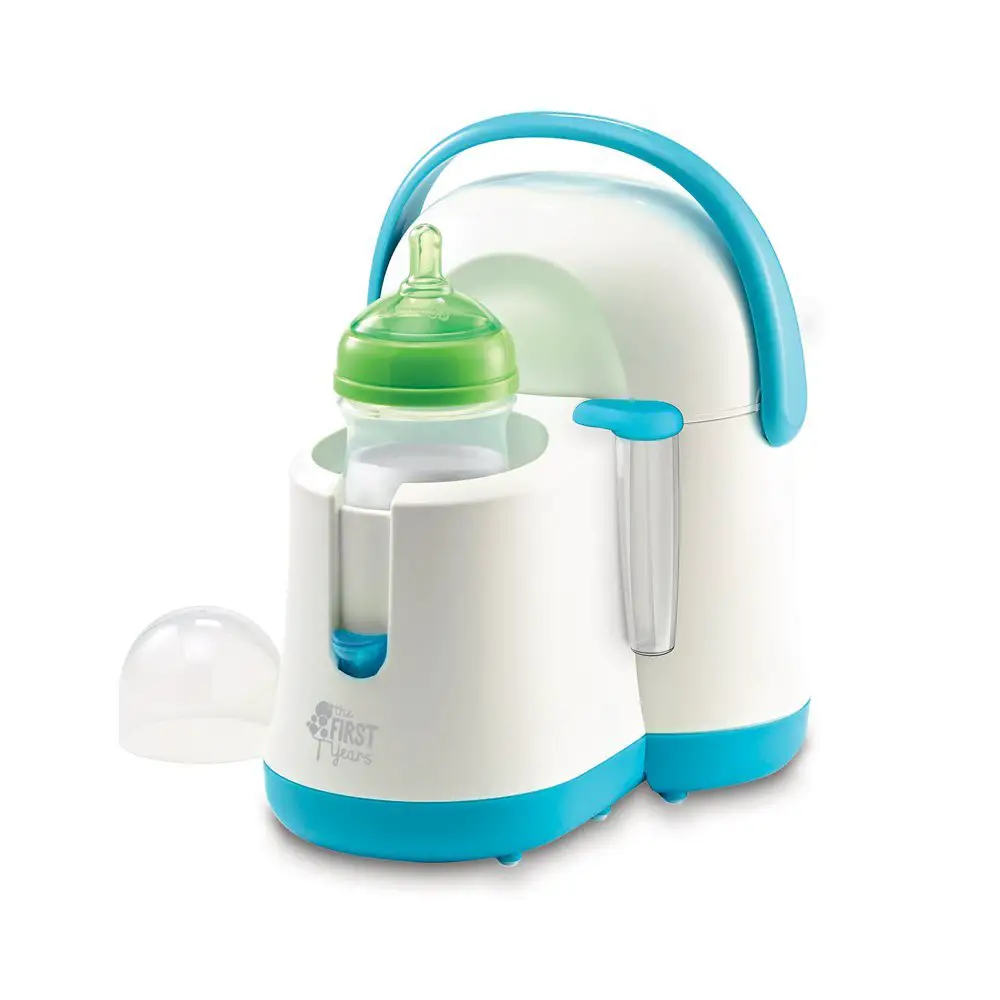 Night Cravings Bottle Warmer's warming aspect works excellently, while maintaining simplicity of concept: It works by heating a little water pot, rather than utilizing a complicated heating system. The big upside? Due to this, you won't have to clean any tubes or reservoirs. There's also an auto shut-off feature to ensure safety.
Included is also a cooler system, designed to put an end to regular nightly dashes. It can hold up two bottles and stays cool overnight. You may or may not end up using this, but it's a cool extra feature nonetheless.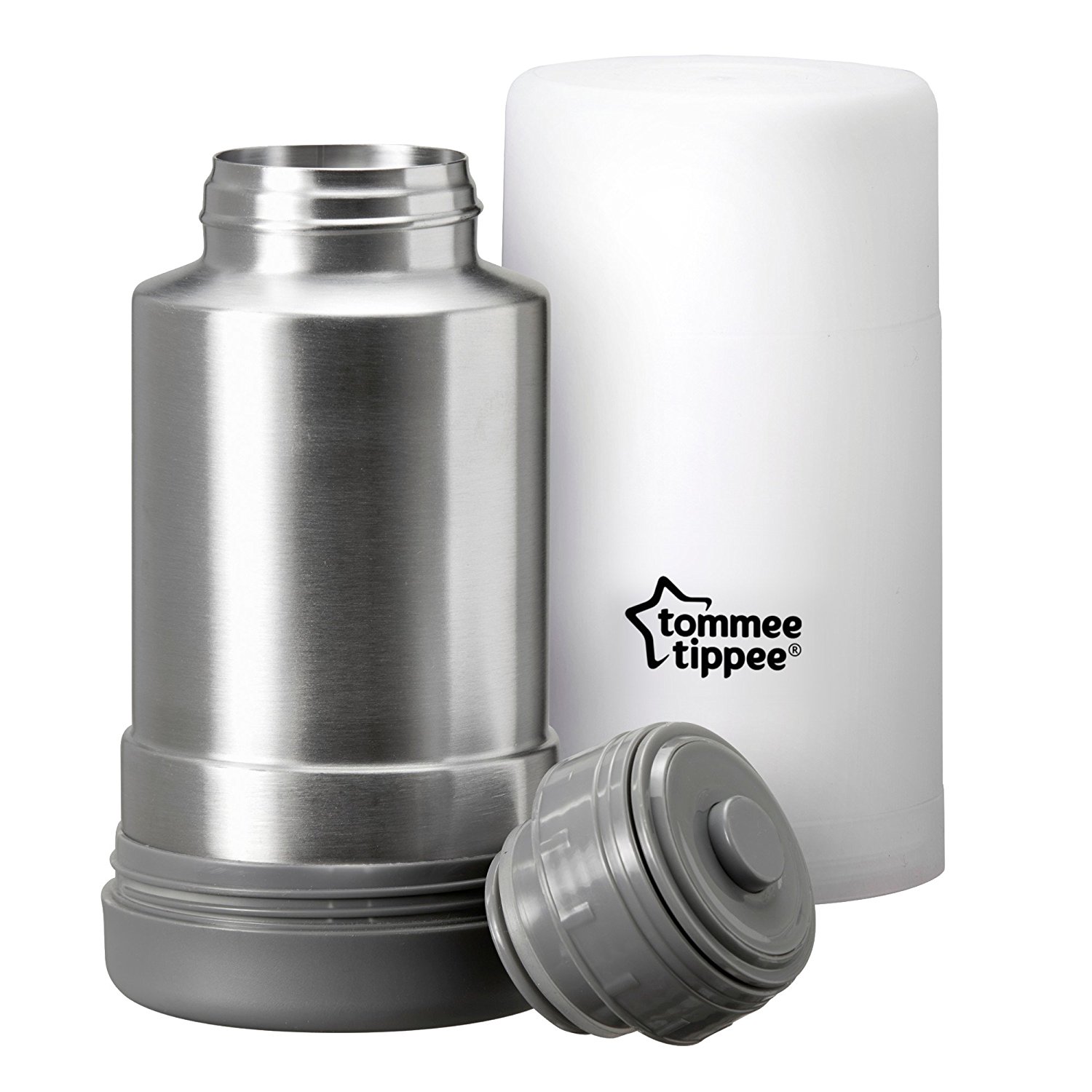 For highly mobile families, Tommee Tippee' travel bottle and food warmer is ideal. It's very portable, as you don't need to plug it in and it can easily fit a bag. It comes in three parts, a stainless steel thermos, a thermos cap, and a plastic water container. You simply fill the thermos with cooled boiled water and, when it's time for feeding, you simply pour water into the plastic container and warm your bottle.
Take note: The container you put the water into gets very hot.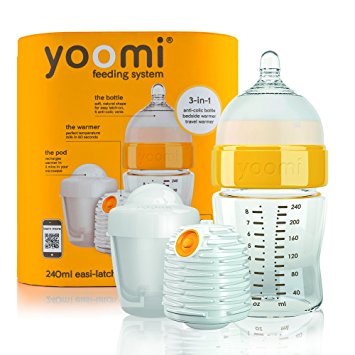 This product is designed to maximize ease of use and simplicity. It warms milk to real breast milk temperature and it is highly portable – there are no batteries required -. You simply press a button on the bottle, and in about a minute, your bottle is warm. The bottle's lid is nipple-shaped, appropriately sized to provide milk in a near perfect as close to natural tempo as possible.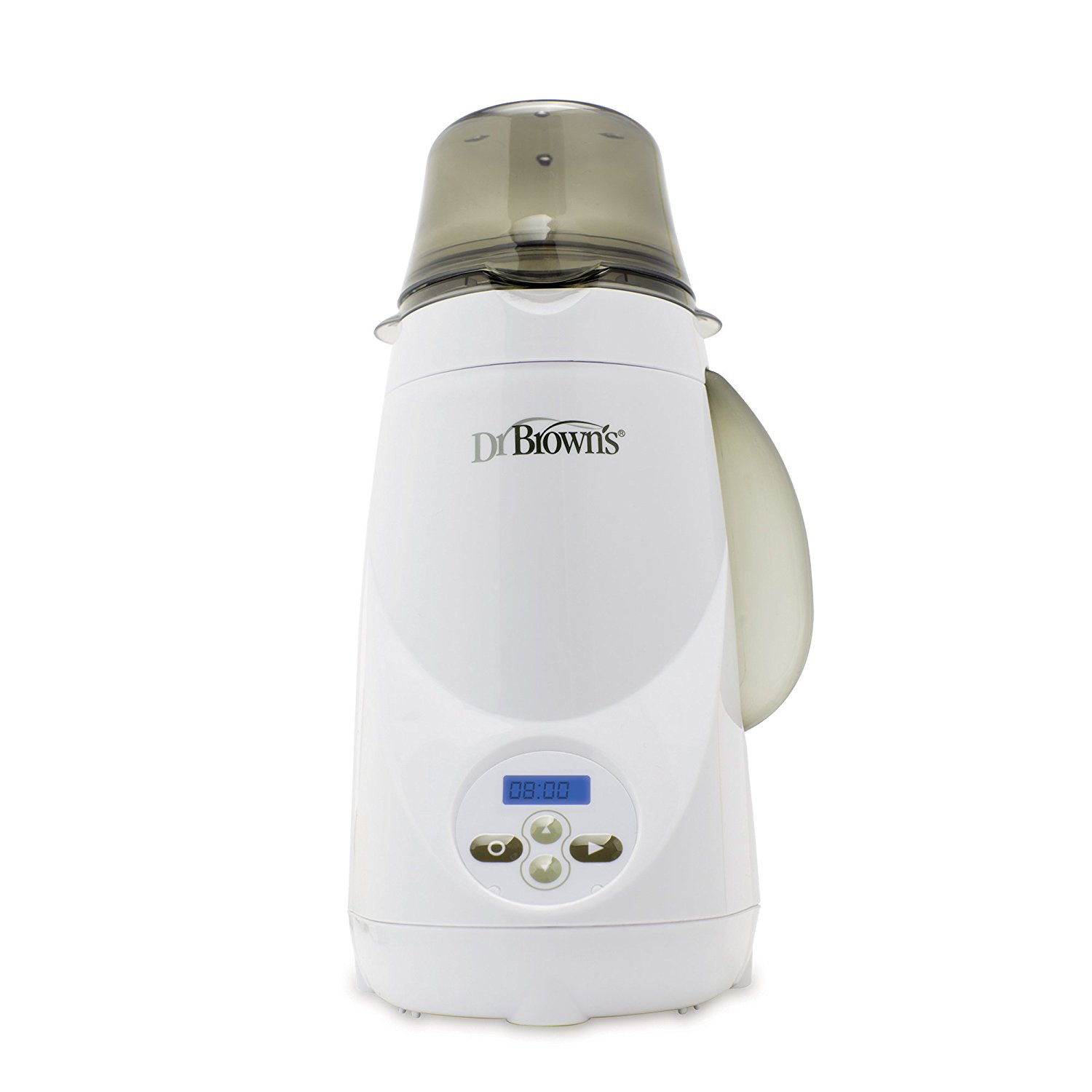 Dr. Brown's product heats bottles relatively fast using steam – in about five minutes the bottle is ready. Including an automatic shut-off feature, the heating stops by itself after ten minutes have passed, ensuring safety. A big upside of the model is how it does not require cool down periods before subsequent uses, like many others do. You can easy it back to back, to warm your little one's food or milk.
Although all in all an excellent model, a parent should take note that it does not fit extra-wide bottles.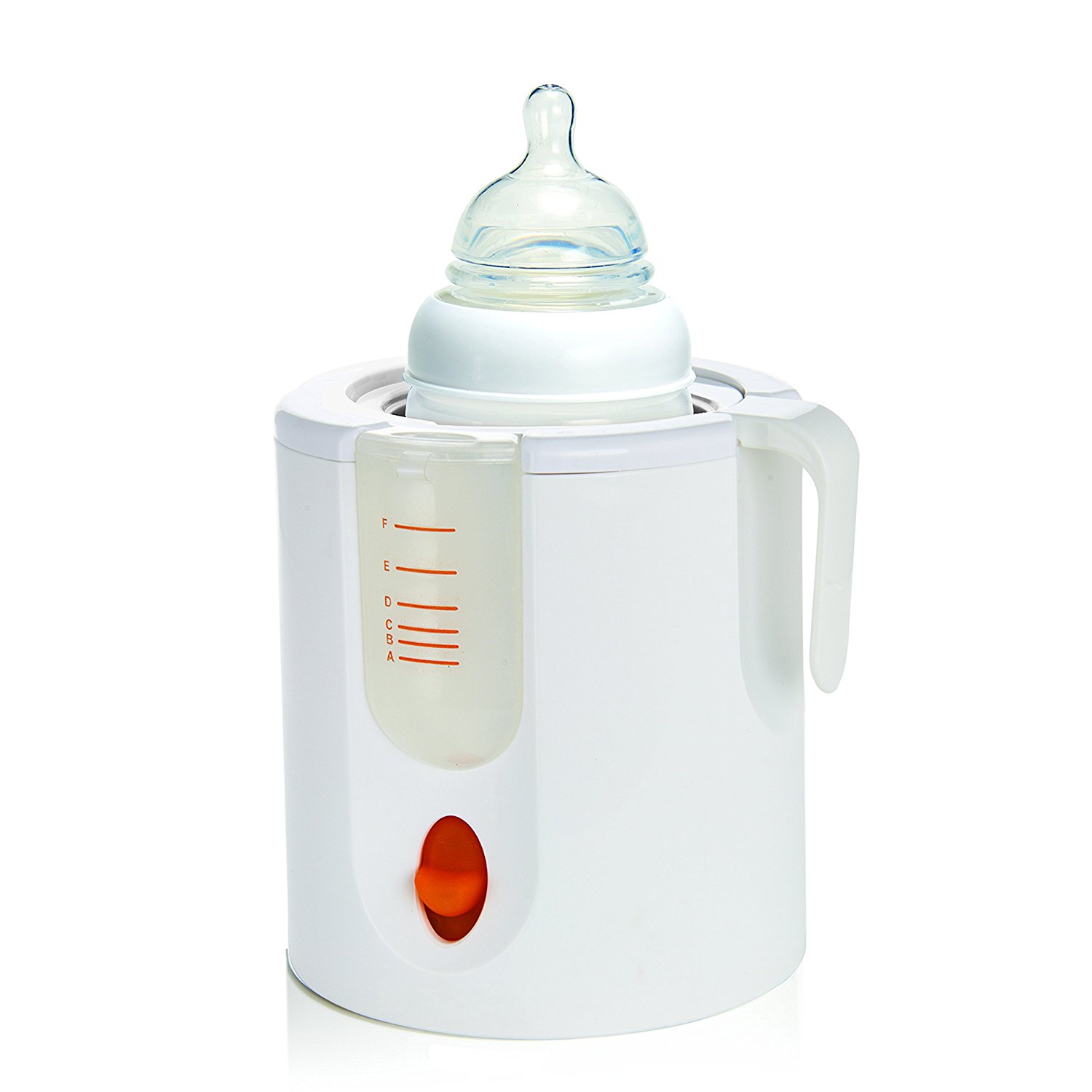 The fastest warmer of those presented in this list, Munchkin's high speed model promises to warm up bottles in less than two minutes. Particularly suited for parents whose babies are extremely impatient – or parents who are impatient themselves – this warmer will be invaluable if you have to warm up milk at night, where every second feels like slow torture.
As convenient as this may sound, however, Munchkin's product comes with a downside: It requires a substantial cool down period before you can run it again – which could prove a big deal, should you need a second round to get warmed up fast.
Conclusion
Whether you are going to invest in a quality bottle warmer is totally up to you. Many parents swear by their convenience and find them irreplaceable. Others aim to find alternatives to heating their babies' food and milk. Some forgo warming altogether. Should you decide to buy one, make sure to check the aforementioned products. They are all of high quality, and rest assured, you'll be satisfied by their results.
Amazon and the Amazon logo are trademarks of Amazon.com, Inc, or its affiliates.