As an Amazon Associate, I earn from qualifying purchases.
Are you looking for an instrument to measure the humidity levels in the atmosphere? Before the advancement of technology hygrometer were typically expensive and not very common in homes. But thanks to technology, hygrometers are now cheaper and easier for us to purchase for our personal use.
We tested numerous hygrometers and selected the 3 best meters that you can buy at a reasonable price.
Our Rating:
Cost:$$$
Pros
Portable
Easy connectivity and use
Application can help locate the hygrometer if you forget where you have kept it
Cons
We couldn't really find any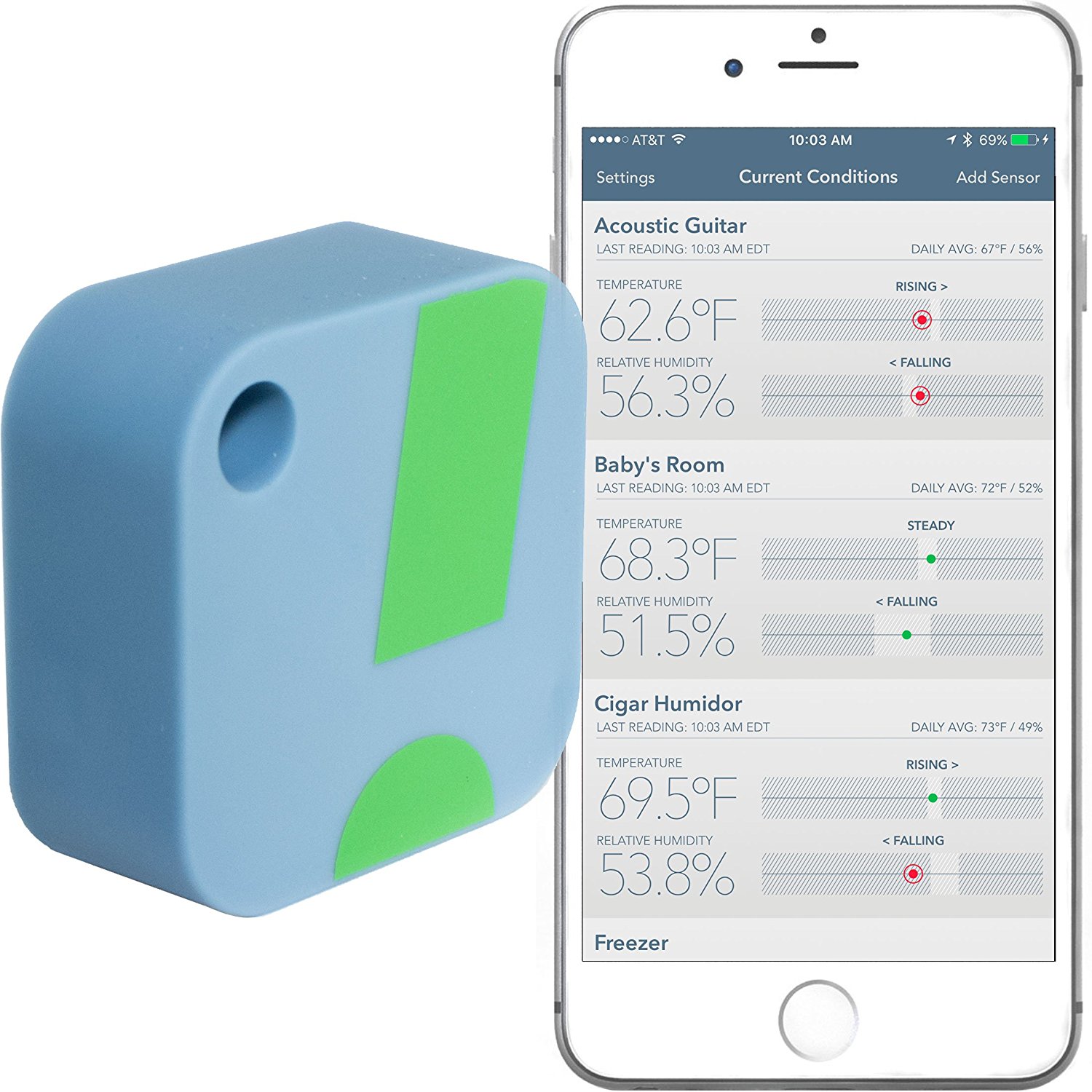 Technology has really helped us to enhance our lifestyle, making things that were previously unattainable more attainable. A decade ago, you could not have thought of having a hygrometer under $500 but today it is made possible, that too one that has connectivity with your phone. The SensorPush Wireless Hygrometer allows you to monitor the weather while also providing you with in-depth analysis.
The SensorPush Wireless Hygrometer is compact, a small cube almost that you can easily fit anywhere with a help of double sided tape. It also comes with a key chain hole so if you want to carry it around with you. It connects with your phone through Bluetooth with a range of up to 325 feet. It automatically stores data for you and can keep up to 30 days worth of data without you having to worry about it. All you have to do is download the free application and let it do most the work for you.
The application is pretty easy to use with a simple user interface. It also has a decent battery life for up to a year, so you don't have to constantly worry about changing the battery. Battery replacement is a simple process, just unscrew the screw in the back of the sensor and replace the battery. Overall, this is an easy to use hygrometer that gives you all the information you would want regarding the climate along with additional analysis. The ease of use and the fact that it connects to any Apple or Android phone is the reason why it is on top of our list.
Our Rating:
Cost:$$
Pros
Easy to use
Provides accurate readings of temperature, humidity, and so on
Cons
We had trouble with readings between the sensors at distance more than 100 feet
If you want complete information about the weather outside your home and inside then you can trust Ambient Weather WS-23 to provide you with the exact information you are looking for. The device works on its own and has a big display which shows you information about the humidity, temperature, amongst other things. It comes with a sensor which gathers the information you require.
The range between the two sensors is great, in an ideal location, outdoors with limited interference, you can expect to get readings up to 300 feet away. Indoors it ranges from about 100 – 150 feet. It is also easy to use, with just a few buttons and the readings constantly displaying so if you aren't very tech-savy then you need not worry. Overall, if you want a simple hygrometer that serves its purpose well and gives you all the information you would want from a hygrometer then Ambient Weather WS-23 is perfect for you.
Our Rating:
Cost:$
Pros
Easy to use and fast setup
Cons
Pretty basic overall, design and capability wise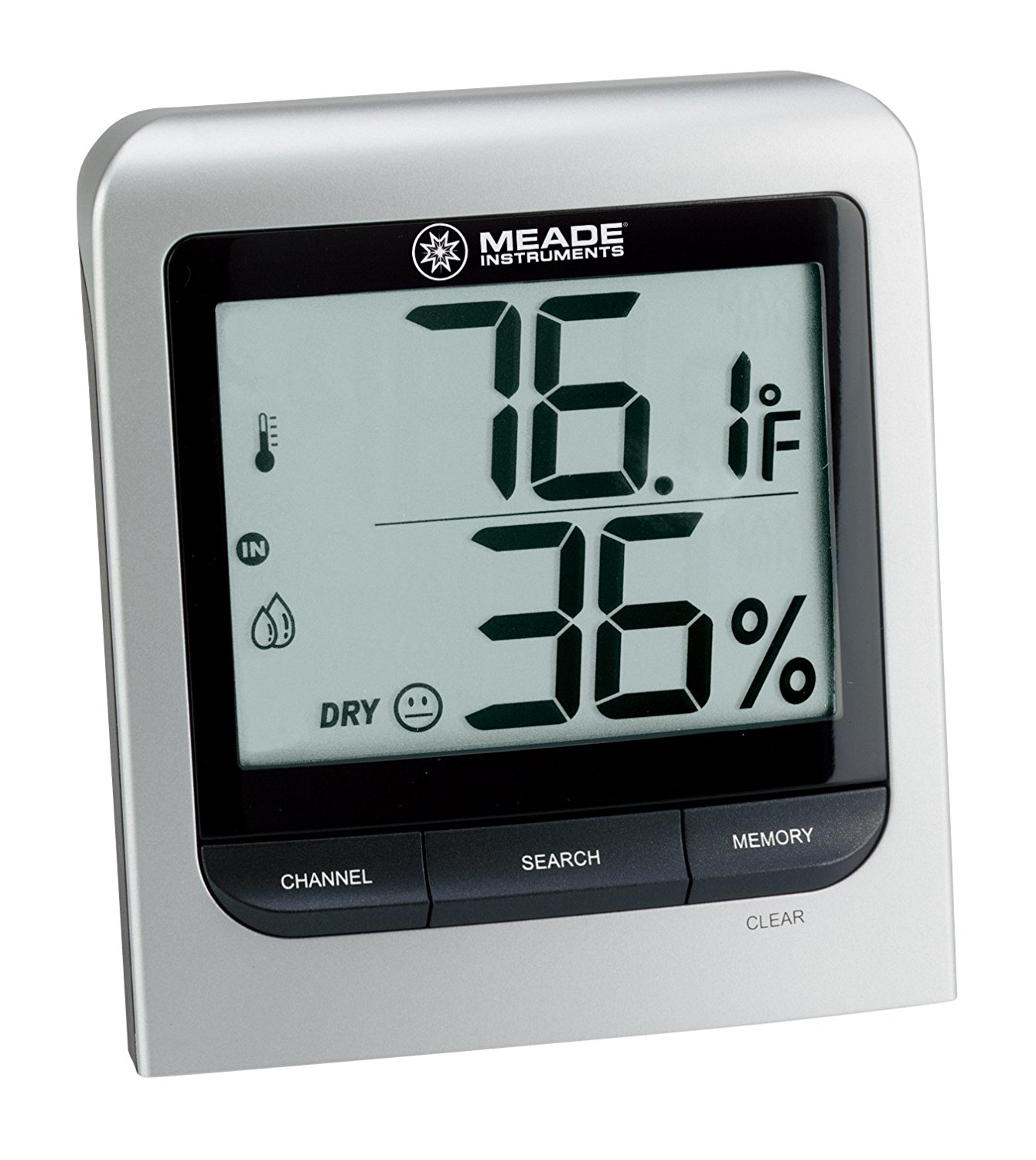 Meade has numerous different hygrometer but we liked the TM005X from their lot. It provides highly accurate readings perfect for anyone looking to keep the humidity in his home in check.
Design wise the TM005X won't win any awards but its simplicity gives it a nice appeal. The shape and size of the hygrometer reader ensure it fits in your palm. The sensor is also pretty basic with a small display. The hygrometer has three buttons that allow you to go through readings while not complicating things. Overall, if you are just starting off and want a basic hygrometer then we recommend you start with Meade Instruments TM005X.
If you are still having trouble deciding which one of the three to go with then let us help you. If you want a hygrometer that provides you with indoor and outdoor reading than either one of Ambient WS-23 or Meade Instruments TM005X are a good fit. If you want readings of items within the household like your fridge, guitar, or any other item then you can go with SensorPush Hygrometer. Bear in mind that all three will serve their purpose and provide you with accurate readings.
Amazon and the Amazon logo are trademarks of Amazon.com, Inc, or its affiliates.