As an Amazon Associate, I earn from qualifying purchases.
It's a known fact that the first 7 years of a child's life are the most defining years. It's during this crucial time that all of their mannerisms, traits, personality, and skills will be shaped. Their learning curve is broad and flexible, and their brains are like sponges, soaking in, digesting, consuming, and processing everything that is going on around them to shape the person that they will one day become.
That said, it goes without saying that your child should be provided with the all mental and physical nutrient and stimulus for them to learn and become the very best that they can be. Leaving your child sat in front of a TV or playing a mind-numbing video game for hours on end in these early days is a sure-fire way of quickly developing uncreative and procrastinate qualities.
By now, a lot of knowledge into child learning has been gained and it is now widely accepted that children learn just as much through play as they do through the age-old writing methods and reading methods. Play-learning can teach a child many valuable life skills, including decision-making, delegation, communication, problem-solving, interactivity, sharing, and fairness to name a few. While playing accounts for a major part in your child's day, their toys need to concentrate on development at all levels. Following are the top five marble runs for kids that best suit your 2-4 year olds: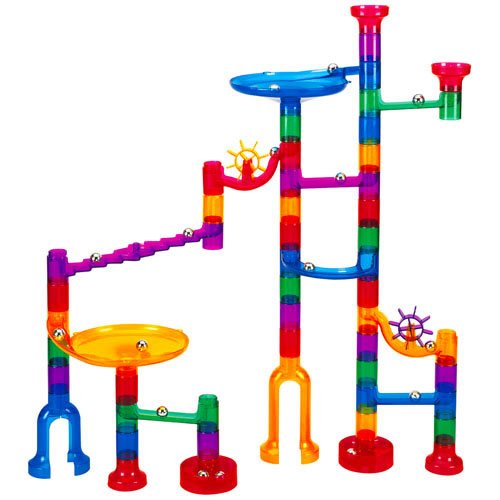 This is a wonderful marble run having transparent pieces that enable children to keep track of the entire course visually. The fascinating aspect of this item is the wide range of colors, coupled with its metallic silver marbles and transparent effect that offers kids hours of fun. With the inclusion of transparent pieces, the child can watch marbles entering one point and ending up some other place. The ecstasy of clearly observing each marble run through the channel with ease is something worth experiencing.
The salient features
Transparent Marble Run
The full set entails 48 translucent pieces and 16 marbles
​The marble run develops reasoning and creativity, both of which are necessary to create impressive structures having the right inclination angles.
Appropriate for children aged 4 years and above.
Shiny and lightweight pieces
Easy for children to assemble
The developmental role of the Marbulous Translucent Marble Run
The toy imparts in children the concept of cause and effect; what they to the system (putting a marble at one point) is a cause and the effect is the resultant motion and place where it ends up. In essence, what occurs in between the two relations is the motion of the marble through the turns and twists all the way to its final destination. The inclusion of the transparency feature allows them to grasp the concept. The whole experience is also fun and engaging to the children.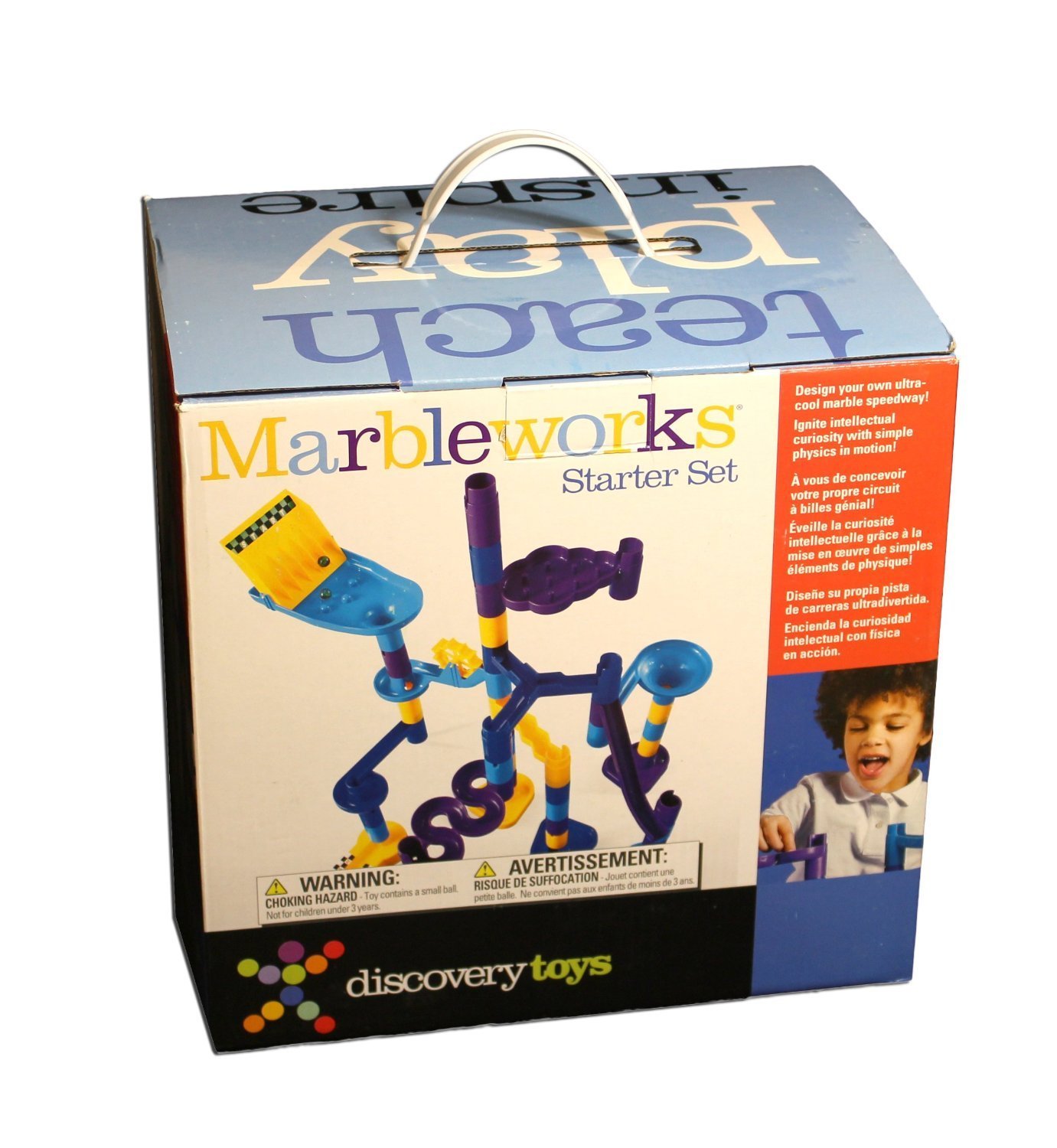 This set comprises of 46 creative pieces of assembly. The most enticing aspect of this option is the fact that you have the ability to purchase additional pieces or more sets for more sophisticated designs. More pieces mean that your kid can build more turns, twists, and drops. With such a choice, your child will be provided with virtually endless possibilities.
How relevant is the scalability of the designs?
With such a toy, children can enhance their logic and problem-solving skills. They derive this potential by exercising their freedom from the constraint of the pieces provided. This scarce resource triggers a more intrinsic sequence of design, leading to a more logical and enhanced problem-solving approach to real issues in life.
The Discovery Toys Marble Run (Starter Set) also enhances planning skills, hand-eye coordination and is simply fun.
Besides, this toy provides an additional safety assurance from its BPA free classification. It is also derived from a highly durable material known as impact polystyrene which is both appealing to the eye and tough to wear and tear. The toy thus has a long useful life and is worth your investment.
​The main features include
Runs that are easy to disassemble
Created runs are not quite tall
BPA-free plastic pieces
Easily scaled-up with additional pieces or sets
This set comprises of a translucent property that we find critical in manifesting the educational role of this toy. Other factors that make it quite unique include:
125 pieces alongside 50 marbles. The Edushape Marbulous Neon Translucent Marble Run coms with numerous pieces that offer the best marble run experience for the 4- year olds.
The set comprises of a plastic bucket that provide storage for the pieces that are not in use at the moment.
Easy-to-follow instructions.
Why buy Edushape Marbulous Neon Translucent Marble Run for your kid?
Contrary to other marble runs in which children are left to fend on their own, this option comprises of step-by-step illustrations and build-ups for every skill level and capabilities. The child thus develops analytic skills as they advance through the different levels as illustrated in the manual.
The inclusion of a plastic bucket for storage teaches kids organization. Progressing through the levels is not only challenging but also fun.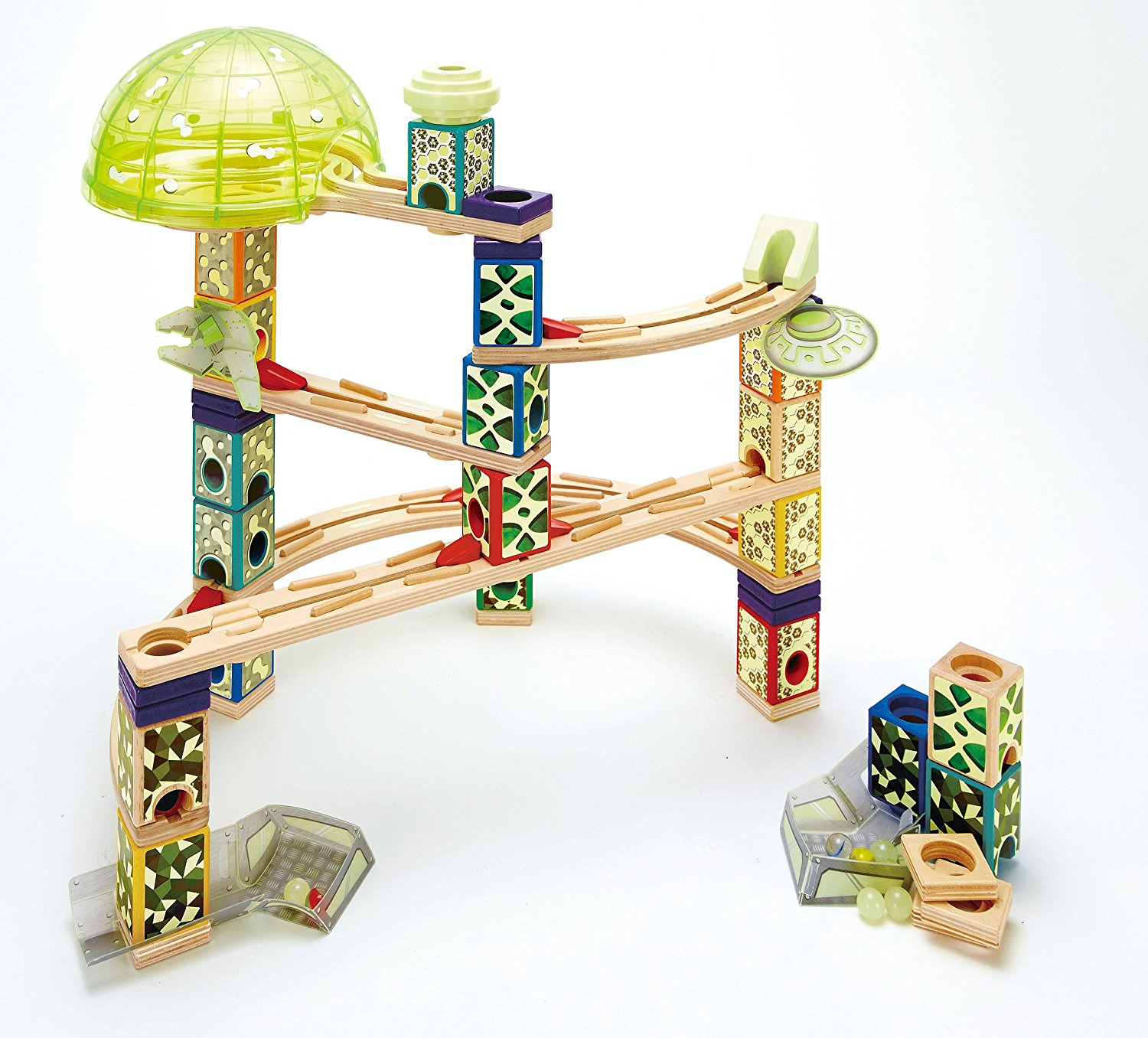 This is a themed toy having some elements that the kid may like, such as a concept on space.
The striking features include:
Its easily visible in the dark
It comprises large pieces, with each piece having its distinct galactic design.
​In the sphere of darkness, it comprises of specially designed glow.
How relevant is the theme?
Sometimes, providing kids with educational toys to impart in them the basics of important subjects such as engineering that will be important later in life can be challenging. However, giving them a toy portraying elements of something of interest to them goes a long way. The theme inherent in Space City Wooden Glow in the Dark Marble Run becomes the creativity and zeal that arouses assembly mixes and imaginative play.
In a nutshell, this toy develops a variety of skills in children. This includes building skills, observation skills, pretend play, concentration, manipulation skills, among others.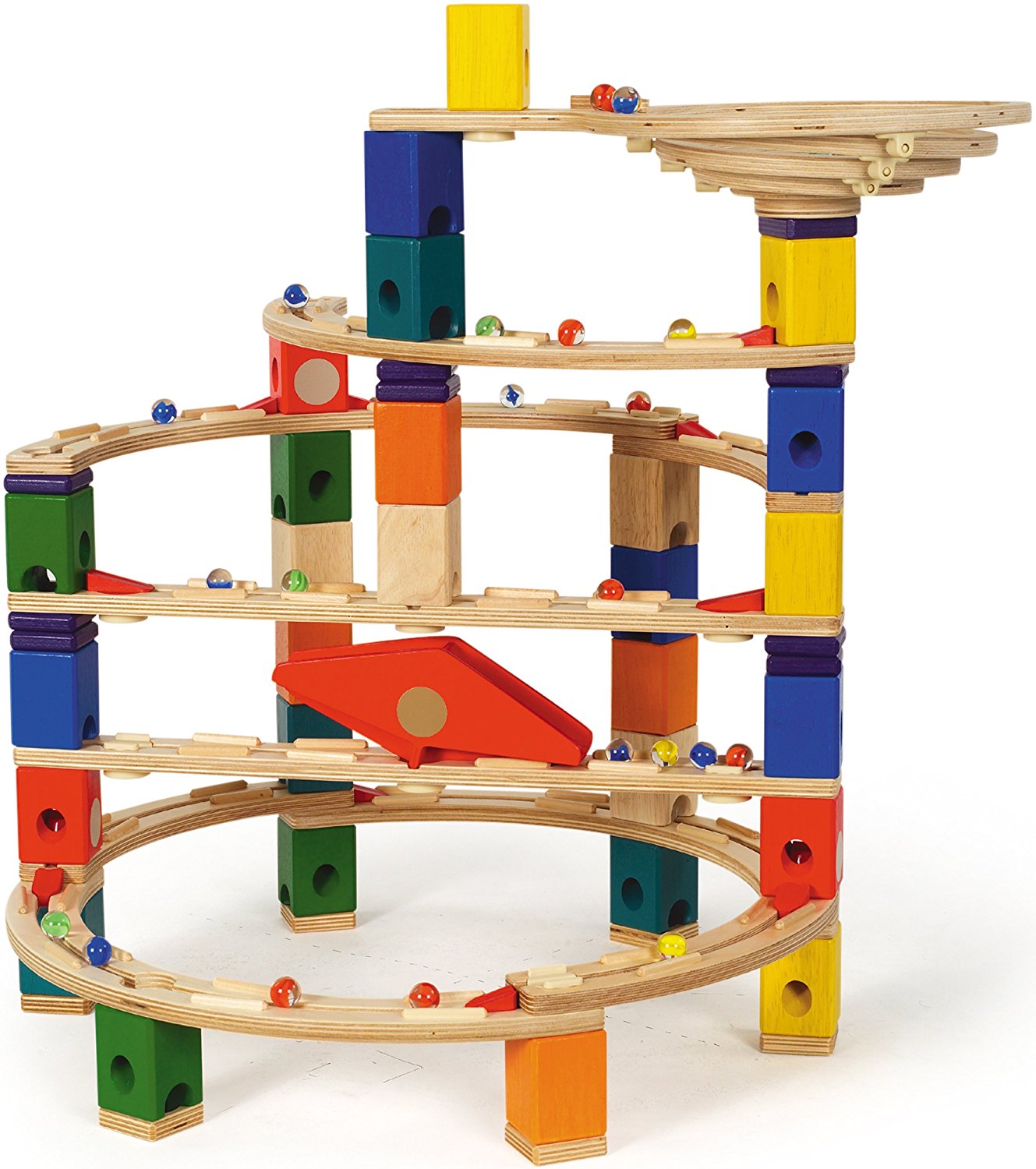 This stands out as the most challenging model among the quadrille series. It is made of highly-quality material and has all of its brightly colored pieces having a non-toxic finish. Therefore, this option is entirely safe the children.
Defining features and Benefits
Comprises 98 pieces in total
Has endless construction capabilities
Develops problem solving skills
So, what is the best marble run for Kids?
A marble run is, without doubt, an ideal and fun toy that brings out the inquisitive and playful nature of the youngsters. The purchase process for the best marble runs for kids should involve careful planning and execution. Besides the hours of fun they provide, marble runs are excellent educational toys that lay the foundation for the children to grasp and comprehend the basics of physics, engineering, geometry and other sciences.
This guide appreciates that fact and is meant to help you select the best marble runs for your four-year-old. Check out on the above information and put into consideration, your budget constraint and the preference, talents, and capabilities of your child in the ultimate selection.
However, I find the Space City Wooden Glow in the Dark Marble Run as the ultimate winner. The dark glow makes it quite outstanding; it's not appealing to the eye, but also quite addictive, even in the dark. It is also the only one with a theme.
Amazon and the Amazon logo are trademarks of Amazon.com, Inc, or its affiliates.