As an Amazon Associate, I earn from qualifying purchases.
Breaking can be a difficult task if you are looking to employ a trailer to tow heavy items. To assist you in the process, you can use brake controllers that will send a message to your trailer's brake telling it to stop. So it basically syncs your vehicle's brake to the trailer's brake. This makes the process of towing a lot safer.
When you are in the market to buy a brake controller you should pay attention to the two different types of controller: time delayed brake and proportional controllers. Time delayed brake controllers have a slight delay after the brake is applied in the main vehicle. Whereas in a proportional controller the brake is applied immediately after you apply break in the main vehicle. The controller applies the same amount of force in the break of the trailer as that applied in the main vehicle. Time delayed controllers are slightly easier to install but you should have no issues using and installing either.
With that we start our list of the five best brake controllers.
Our Rating:
Cost:$$$$
Pros
Digital Control
Exceptional brake response
Cons
Doesn't work well with the Dodge Ram
Tekonsha has been in business since 1964 initially starting with RV stairs and steps and eventually moving into manufacturing brake controllers. The 90195 comes with digital control which allows you to easily diagnose if any problem occurs in the system. The brake controller has exceptional response and as soon as you hit the break in your truck it proportionally applies the same force on the brake in your trailer. Ensuring it stops with your vehicle.
The digital display allows you to ensure that all the settings and equipment itself is functioning properly and to your needs. The 90195 is also easy to install so you can do it yourself. Overall, this is the best brake controller of the lot.
Our Rating:
Cost:$$$$
Pros
Easy to setup
Provides manual control for trailers brake
Cons
Use with electric braking trailers only
with the Hayes 81741B, you get a brake controller that provides convenience and safety. It is simple to install and use with cruise control and ABS. You also have a manual override option just in case the system fails to ensure that the trailer behind you breaks with your car.
We experience no issues with the 81741B but the lack of a digital display and the simple design didn't really appeal to many. However, that does not take anything away from the exceptional performance of the brake controller. This brake controller only works with electric braking systems in trailers so be sure it is compatible with your trailer before you purchase it.
Our Rating:
Cost:$$
Pros
Automatically adjusts output of the brakes
Works with both hydraulics and electric brakes
Cons
The CURT 51140 employs a triple axis motion sensing accelerometer which permits the brake controller to easily since the type of road you are driving on. So no matter how bumpy the road is the device senses every motion of the car assuring that the brakes are applied when you need them to be. This feature really makes the 51140 stand out in the crowd.
CURT has been known to make exceptional products throughout the years and has done the same with 51140. The brake controller is compatible with almost any truck and provides exceptional assistance for your long haul trips.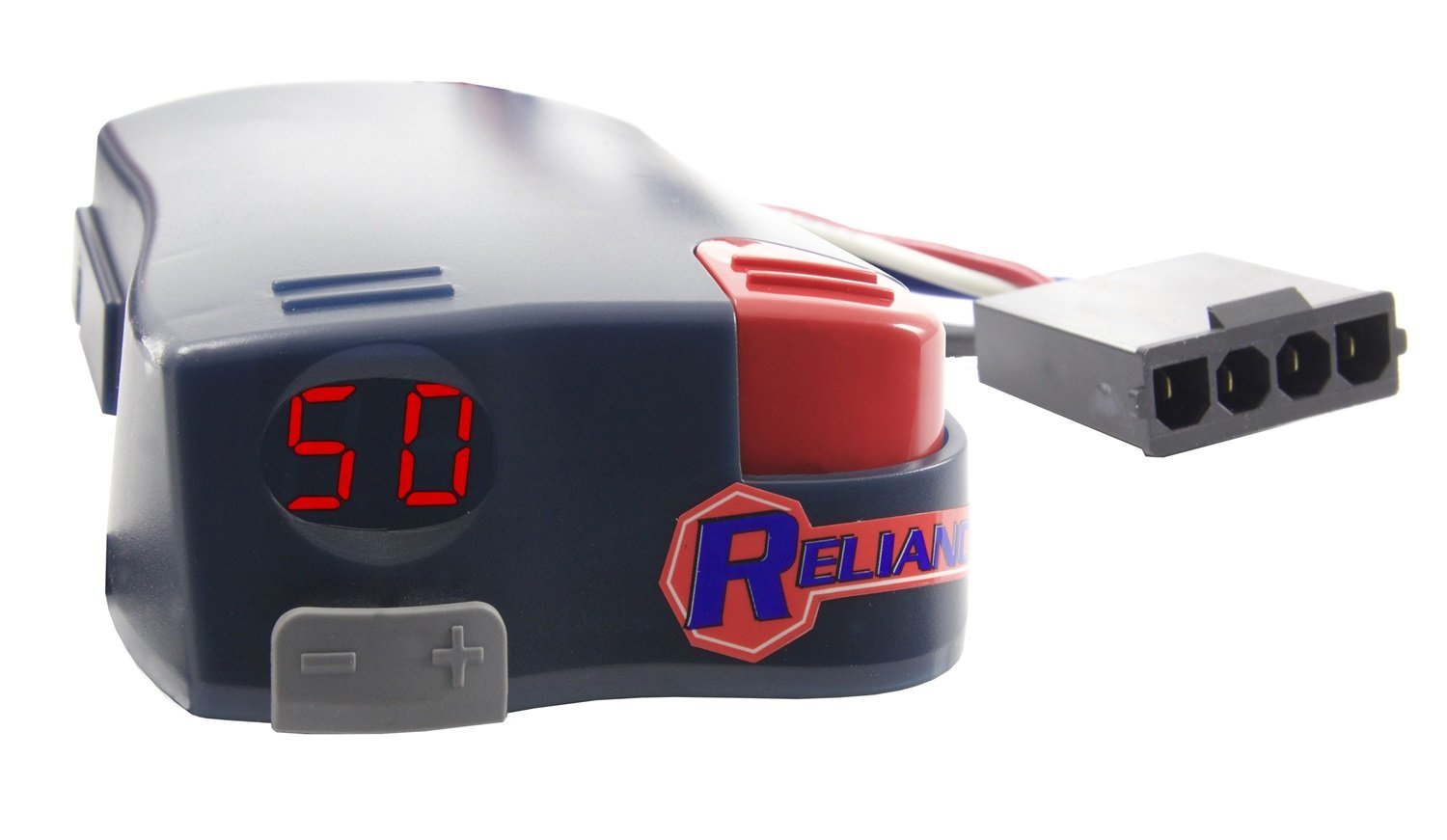 Our Rating:
Cost:$$
Pros
Easily plug in
Alert system to notify if brake fails
Cons
Braking power has to be adjusted manually
Understanding drivers need the Hopkins 4728 gives you control over the braking intensity of your trailer by manually setting it. So you can set it depending on your needs for a smooth braking process and ensuring that the brake shoes of your trailer and car are safe. This time breaking controller can be used to tow the heaviest of items with an ease of mind due to its great performance.
You can easily install it in your car and mounted on to your dashboard. The plus and minus button on the front of the controller allows you to control the force of which the break will be applied to the trailer ranging whether it be 40 or 90%. Overall, you can rely on Hopkins 47284 Reliance Digital to provide you with a braking system that is safe and secure.
Our Rating:
Cost:$
Pros
Durable device
Compatible with anti-lock braking system
Cons
No protection for short circuit
The Reese 74642 Brakeman Timed provides you with a reliable assistance for your towing needs. An easy set up it can be fitted and you were in your car for you to monitor with ease. It comes equipped with an output panel which allows you to control the force of the brake applied on the trailer. You can play around with the settings to see which is the best for you.
Whether you are towing a trailer or heavy, material the 74642 is all the assistance you need when it comes to a brake controller. You can travel with an ease of mind when you have it installed in your car.
A brake controller will be your main support in ensuring the trailer behind you brakes along with your car. So we recommend you go with one of the controllers on our list as they are all reliable and work efficiently with almost any truck or car. They are all fairly easy to install and can be of great assistance on your long-haul trip.
Amazon and the Amazon logo are trademarks of Amazon.com, Inc, or its affiliates.