As an Amazon Associate, I earn from qualifying purchases.
If you are a constant hiker, then you will need a reliable hiking watch. Below are some of the features to look out for in a hiking watch;
Barometer –

A good hiking watch will have a barometer that helps you determine and predict prevailing weather conditions. These conditions may include; atmospheric pressure, clouds, rain etc.

Altimeter –

This allows you to measure the height above the sea level (altitude). The altimeter uses the barometric pressure and GPs data to determine where you are against the sea level.
​

A compass –

The cardinal directions – north, south, east, and west – are very important to the average hiker. You do not want to get lost inside a forest or a mountainous terrain.

Thermometer –

A thermometer on the watch helps you determine the clothes that you should be wearing during your hike.
​

Durability –

The watch casing and straps should be made with durable material. For example, some watches are made with a scratch-free sapphire glass lenses and leather straps. Note that durability means that the watch will be more expensive.
​

GPS –

This is an important tool for navigations and tracking. If you are cycling, you can use the GPS to determine the ascent, descent, speed and distance. Your GPS watch will record distance covered and duration it took you to cover the distance. Use apps such as Garmin Connect and Suunto Movescount.

The Heart Rate Monitor –

A heart rate reading will help you maintain a steady pace during your hike especially if you are hiking to keep fit.
Top Watches for Hiking
Garmin Fenix 3
Suunto Ambit 3
​Suunto Traverse
Suunto Core Crush
Casio Pro Trek PRW 3000 1A
Comparison Table for the Top Hiking Watches
| | | | | | |
| --- | --- | --- | --- | --- | --- |
| Feature/Product | Garmin Fenix 3 Sapphire | Suunto Ambit 3 Peak | Suunto Traverse | Suunto Core Crush | Casio Pro Trek PRW 3000 1A |
| Weight (pounds) | 3.03 | 3.14 | 2.82 | 2.93 | 2.19 |
| Weight (grams) | 86 | 89 | 80 | 83 | 62 |
| Case Size (inches) | 2.0 x 2.0 x 0.6 | 2.0 x 2.0 x 0.7 | 2.0 x 2.0 x 0.7 | 1.9 x 1.9 x 0.6 | 2.2 x 1.9 x 0.5 |
| Case Size (centimeters) | 5.2 x 5.2 x 1.6 | 5.0 x 5.0 x 1.8 | 5.0 x 5.0 x 1.7 | 4.9 x 4.9 x 1.5 | 5.6 x 4.7 x 1.2 |
| GPS | Yes (GLONASS) | Yes | Yes (GLONASS) | No | No |
| Display Type | Transflective MIP Color | Matrix | Matrix | Matrix | Matrix |
Here is a breakdown of the top 3 of the watches.
The Garmin Fenix 3 is a smart watch that is designed for both everyday use and hiking activities such as climbing, backpacking, swimming, cycling, mountaineering, and hiking. Its resolution display is designed for harsh conditions. The materials used for making the watch include stainless steel and sapphire glass to avoid abrasion and ensure durability.
Among the special features of the watch include; a 3-axis compass, an altimeter, a barometer and a thermometer. In addition, the watch can be connected to a temperature sensor such as Garmin Tempe. Among the apps that are installed on the app include; Garmin Connect app, race predictor, recovery advisor, Connect IQ and many more.
Pros
It has a scratchless sapphire display built for durability
It can be connected to many support apps
It allows customizations to personalize the watch
It can be synchronized with a smartphone
It has a GLONASS support
It is designed for durability and functionality
The watch offers vibration alerts.
Cons:
Its size is not suitable for small hands.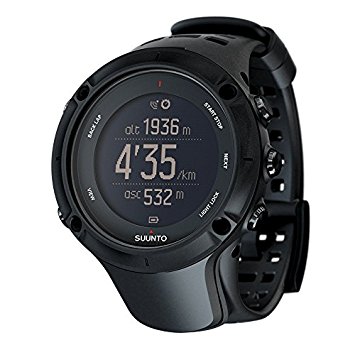 The Suunto Ambit is a great choice for people who love the outdoors. It is best used for activities such as backpacking, running, and hiking, cycling, trekking, climbing, and mountaineering among others. It has a less sophisticated display compared to Garmin Fenix 3 Watch. Among the features to expect in this watch include thermometer, compass, altimeter, GPS and a barometer.
It has apps such as the Suunto Movescount App that is used to plan the routes to take. The app can also help measure the calories you burned over the distance and how long it took you to burn them.
Other apps on the watch include Suunto Ambit 3 Peak, Suunto Ambit 3 Sport, Suunto Ambit 3 Run and Suunto Ambit 3 Vertical.
Pros
The watch is equipped with Bluetooth connectivity and smartphone synchronization
It supports a large number of outdoors apps
Its GPS functionality is credited with awesome accuracy
It comes with a multi-sport mode and an app called Movescount
Cons
Its connectivity depends on an external antenna.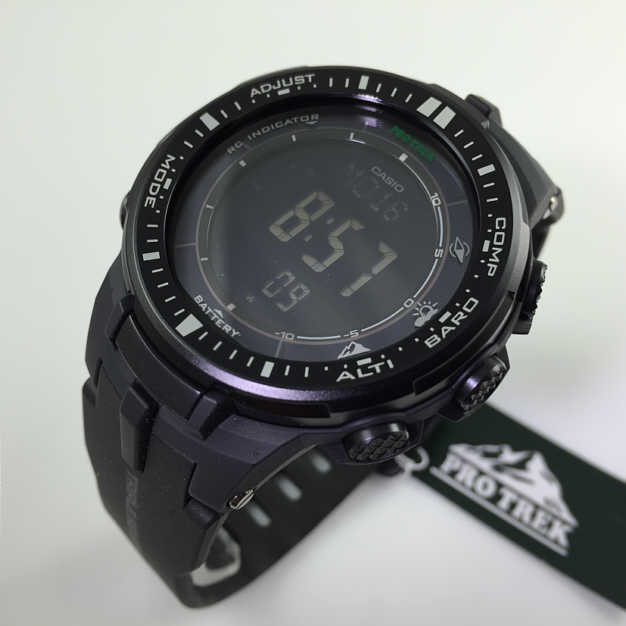 The Casio Pro PRW is designed for outdoor activities such as hiking, backpacking, trekking, mountaineering, as well as for everyday use. The watch comes equipped with the latest features such as thermometer, altimeter, digital compass and a barometer.
Another important feature of this watch is the solar-rechargeable battery that can be used for 7 months if you do not expose it to direct sunlight. You have no worries of risking an empty battery when you are out in the forests. Accurate time calibration is ensured by synchronizing it to the radio signal that is received 6 times a day.
The compass on the watch has a bearing memory and support the magnetic declination while the barometer shows a graph with the weather trends. The watch also comes equipped with atmospheric pressure measuring instrument that tracks significant changes. Other basic features are stopwatch alarms, countdown, calendar, and sunset data. It is the watch of choice for people who do not want to wear a GPS watch that shows people where they are out hiking.
Pros
It is small sized and affordable to the common person.
The weight of the watch is suitable for people who are hiking long distance.
Cons
The watch has no GPS
The watch is not compatible to the heart rate belt.
The above hiking watches will make your trek in the woods or in the mountains more enjoyable since you can track all the elements that are important to a hiker. Choose the one that best suits your budget.
Amazon and the Amazon logo are trademarks of Amazon.com, Inc, or its affiliates.