As an Amazon Associate, I earn from qualifying purchases.
Looking for ideas to ensure that your party or event more exciting, get a photo booth. Many parties now have portable photo booth which allows guests to take memorable photographs of the event. We looked at quite a few portable photo booths and have selected the top two based on ease of use, quality of the picture, and cost.
Mojo Photo Booth PLUS
Our Rating:
Cost:$$$$
Made in the USA, Mojo Photo Booth has been producing photo booths for almost a decade now. All those years of experience has enabled them to perfect the art of making portable photo booths. That is why they are quite popular in the event servicing industry and have been accredited by BBB.
The Mojo Photo Booth Plus is the complete package when it comes to photo booths. It has the following features: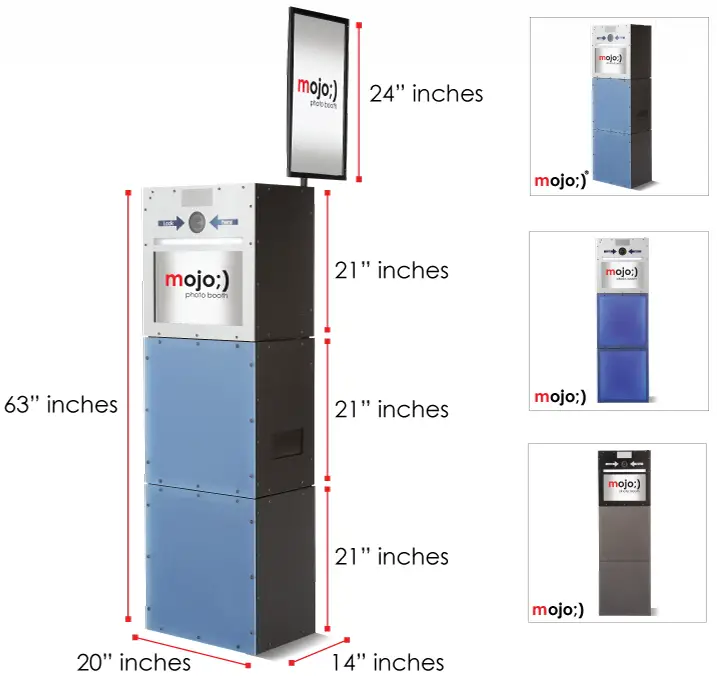 Digital photo printer (DNP DS620A)
A DSLR Camera (Canon EOS Rebel T5)
​HP 14t Intel N3540 Quad Core 4GB DDR3L HD Graphics
Darkroom Booth Software
​ELO Commercial-grade Kiosk 160° IntelliTouch Monitor
Custom studio background
The booth is easy to store and carry, can fit with ease in a passenger car. The quality of the pictures were very crisp and clear. We wouldn't expect less from the 18 MP Canon EOS Rebel T5. The Darkroom Booth software is also fairly easy to use. It won't take a rocket scientist to slightly edit and print the pictures after they are taken. You can get the optional canopy and even put up backgrounds or just have the photo booth set with a background to make the photo booth fun and exciting. Overall, the photo booth is not difficult to operate and will surely make your event one filled with fun. Guests will surely enjoy the booth and we recommend having a nice themed background to really make the booth an experience for all.
Pros
Easy to use
Portable, can be transported in a normal passenger car
Great quality of photos
Can be easily fitted in front of a backdrop or green screen
Cons
Additional charge for a canopy
The Mini Stacker EXTREME BOOTH Turn Key
Our Rating:
Cost:$$$$
Extreme Booth started out as a photography studio and ventured in to manufacturing photo booths in 2007. Being a studio first, the team knew exactly how to design photo booths to fit the needs of their clients. Their booths are functional, durable, and have a sleek design which are a great fit for any type of event.
The Mini Stacker EXTREME BOOTH Turn Key is as portable as a booth gets. It is 1/3 in size and weight that their original Stacker booth. The booth has the following features: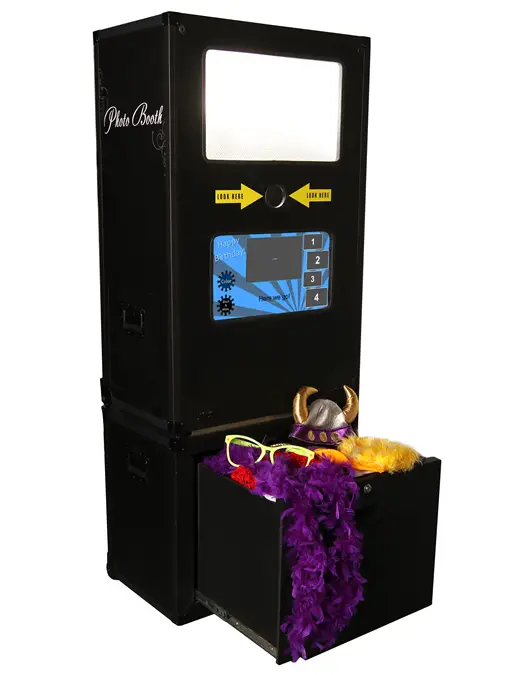 Prop table and case transport cover
20" touch screen monitor
​Camera mount to accommodate any DSLR
​18 MP Canon DSLR camera
High-quality printer (300 dpi)
400 watt studio flash unit
This booth is perfect for any party. It comes with a storage with a lock for your props. Both qualities of picture and print are of high-quality. You can easily set it up in front of a backdrop for fun-filled photo sessions. Overall, if you are looking for a small booth that produces exceptional photos then the Mini Stacker is right for you. You will certainly have people gathered around the booth waiting from their turn.
Pros
Portable
Stores props in the booth
​High-quality photos and prints
Can be easily fitted in front of a backdrop or green screen
Cons
Software is not as user friendly as Mojo's
Photo booths make any event fun. With the rise in popularity various studios have started to offer photo booths as an option in packages for wedding, birthday, and other memorable events. It is a source of entertainment for guests of all ages who then can have a memorabilia from your event. Be sure to be prepared though, you may not be the main attraction at your event as people will probably give more attention to the booth.
Amazon and the Amazon logo are trademarks of Amazon.com, Inc, or its affiliates.