As an Amazon Associate, I earn from qualifying purchases.
Cornhole bags are the main component to cornhole, the game. There has been much debate as to which material is better to fill the bag with. The argument being mainly between corn or plastic pellets. They each have their own advantage, however plastic pellets has become quite popular with players. The reason for that is because they are weather resistant and durable.
Plastic pellets are resistant to moisture which means the bag won't get waterlogged, making it harder to play with. Corn however, develops mildew over time or if the bag is left out. So with time the bag actually takes a lot of wear due to the weather, which also leads to our second point. Bags with plastic pellets are more durable. Plastic pellets are more durable than corn. With use, corn inside the bag breaks down to the point where it impacts the play of the game. Plastic pellets are already quite small in size and don't breakdown anymore. So the weight and style of play doesn't really change when you use them. So we prefer using plastic pellets over corn, for those two reasons.
Now that we have our mind set on the material to be used in the bag. We must decide on which plastic pellets we should utilize. After testing out numerous plastic pellets, we have narrowed it down to the top three, you can go with either one of these for cornhole bags.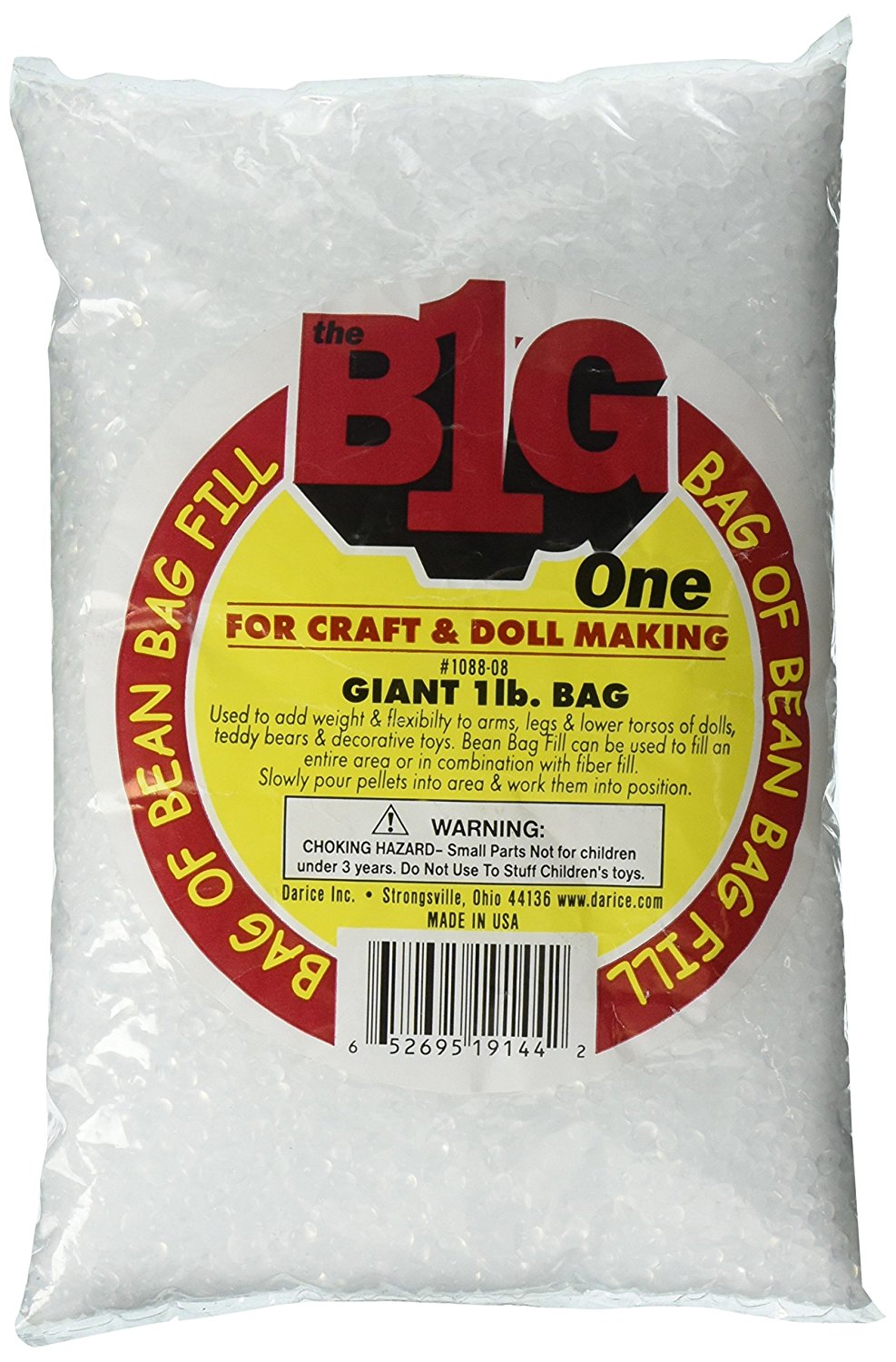 Our Rating:
Cost:$$
If you want plastic pellets that are small in size and durable then Darice Bean Bag Filler Plastic Pellets are for you. The pellets are just 3mm in size, meaning they displace well and are easy to grip and toss. When you grab the bag with these pellets filled, it's pretty smooth. Matter a fact, we even thought of making pillows out of the pellets, they were that soft and smooth. The pellets are very reasonably priced, making them very popular for other crafts also.
Our Rating:
Cost:$$
Evostorm has developed pellets you can use for anything you can think of in these polypropylene plastic pellets. These pellets are similar in size to the Darice at 3.1mm but feel slightly heavier. Not in a bad way though. The pellets provide good density due to their size and weight for cornhole bag. One thing we didn't like was that we only have the option for purchasing it in bigger quantity. So we just decided to make multiple bags out of it. When testing them, the bag just feels more complete than the one with Darice plastic pellets. We believe the extra weight, even though it was just slightly more, gave our hands the impression. All in all, these pellets are great for cornhole bags and you will surely be satisfied with the outcome if you use them.
Our Rating:
Cost:$$
Fairfield pellets are known to be used for crafts and dolls. We thought we would try it out on a cornhole bag and were impressed. We found the feel of the pellets, once in the bag, to be much better than many of the other pellets out in the market. The pellets allow you to get a good grip of the bag for tossing. It's light-weight so tossing it is not an issue. We tried to really test and used the bag for a few days without any wear and tear. So the pellets are fairly durable. Overall, we had no issues with these pellets, just that the size of each felt slightly bigger than the other two on the list.
So now we have you ready for your cornhole tournament. If you are looking for durable and reliable plastic pellets then these three are your best bet. You can easily go on for hours and days tossing the bags around without any wear or tear. We recommend pairing these pellets with weather resistant bag cloths for long-lasting cornhole bags.
Amazon and the Amazon logo are trademarks of Amazon.com, Inc, or its affiliates.