As an Amazon Associate, I earn from qualifying purchases.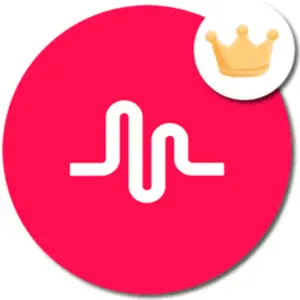 musical.ly is a free app that allows you to create short music or comedy videos. musical.ly is available for free in the iOS App Store, Google Play Store, and the Amazon App Store.
To create a music video, the users have a few options. One option is to select a song from the musical.ly library. You can use a portion of a popular song or the entire song. Record yourself dancing and/or lip-synching to it.
Another option is to create short videos of you actually singing, not just lip-synching or dancing. You can record original content or sing a known song. This option has secured soe musical.ly users actual recording contracts.
Outside of lip-synching and dancing, you can produce other creative entertaining pieces. You can create short sketches about anything you want from fashion to tv. You could create a comedy routine or act. You can even produce tutorials about earning a musical.ly Crown.
Once your video is recorded, you have the ability to add effects and filters to give your video something different to help you stand out. Your video should contain trending hashtags. The leader board of usical.ly will list the trending hashtags. Don't overuse them – hashtag smartly and appropriately.
Your finished product is shared on musical.ly. All musical.ly accounts are automatically public and can be followed by anyone. You do have the option to create a private account which is only followed by those you approve. Public accounts will offer you the best opportunities to gain likes and followers.
Your completed videos can also be uploaded to other social networks of your choosing – like Vine, Twitter, Instagram, and Facebook. You can also save your videos to your computer and share them however you wish.
"Musers", Musical.ly USERS, are all out for the same thing – followers and likes; but ultimately they are looking to create a featured video and earn a Crown. Musical.ly selects the featured videos and they appear on the Featured Feed. The Featured Feed is viewed by all musers. Those videos earn their creators additional likes and fans, which in turn leads to the coveted 'Crown'.
A Crown is what musical.ly uses to authenticate a user's profile. Crowns are earned when the musical.ly panel verifies your account and deems your video as outstanding. With over 130 million users uploading 12 million videos a day, it is no simple task to attain this attention.
Fame is one way to earn a Crown. While the number of likes, fans, or features you have are some of the factors that lead to a Crown, musical.ly is also looking for creative, meaningful, and interesting content. Engaging your followers and others in the musical.ly community is another way to gain attention and earn a crown.
When selecting your music from the musical.ly library, you may be better served choosing less popular tunes. Songs with fewer videos betters the chances of your video being listed at the top of the leader board for those songs. That doesn't mean you should select music you hate, but maybe look at some of the great, songs your favorite artist has that haven't hit number one yet.
Increase your chances of earning a musical.ly Crown
Create high quality videos

Use good lighting
Make sure your sound is clear
A stable camera can be more appealing than a shaky one

Create videos with original content
Use less popular songs to stand out from the crowd
Get musical.ly featured
Add trending hashtags to your videos
Have a fan base that you respond to and engage
One way NOT to get a musical.ly Crown is to use a hack. Websites that claim to offer a hack to earn followers, hearts, and features are not condoned by musical.ly and could potentially damage your system. musical.ly recommends you never supply your username and password to any website or hack and if your information has been given out, you should change your password immediately.
Amazon and the Amazon logo are trademarks of Amazon.com, Inc, or its affiliates.