In a society that has become more aware and focused on personal appearance, the demand for cosmetic services continues to rise.
What does an esthetician do? Esthetician jobs are growing faster than most other occupations, and there is a high demand for qualified estheticians. Estheticians, or skin care specialists as they are also known, conduct skin care treatments to improve the appearance of their clients and customers. 
An esthetician is a trained specialist who focuses on skin care as opposed to general cosmetology. Becoming an esthetician requires extensive training in the field of skincare and its various treatments as well as certification after completing a program and two examinations.
What does an esthetician do?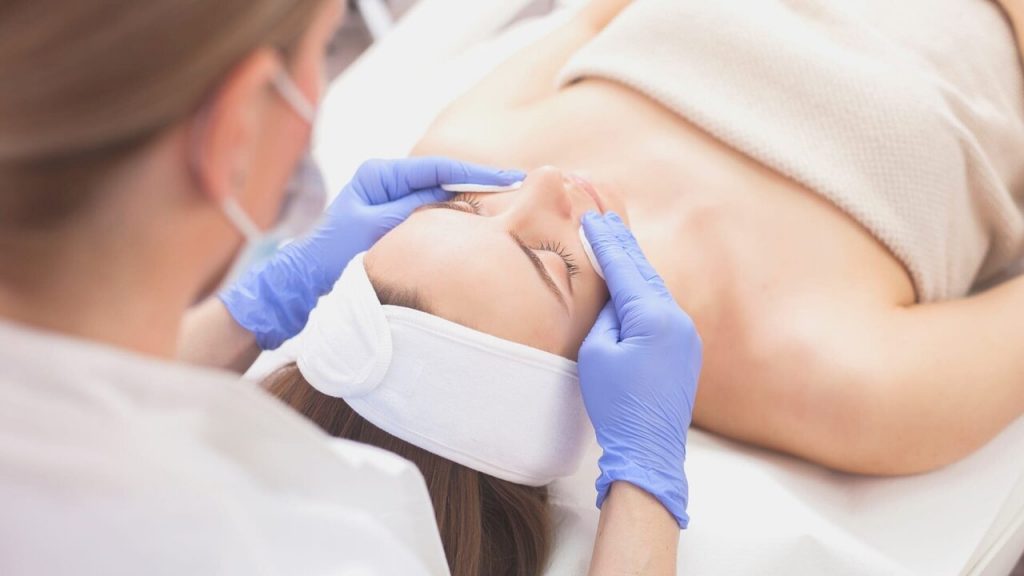 The core job of an esthetician is to provide skin care services. Skin care services include a variety of procedures and treatments meant to improve the appearance of the skin. In fact, the word "esthetic" refers to the study of skin care. Esthetician jobs include things like facials, microdermabrasion, waxing, and skin analysis. 
Facials are a common treatment to exfoliate, moisturize, rejuvenate, and clean the skin. Microdermabrasion is a treatment that uses a machine to scrape away the top layer of the skin to reveal a younger and smoother layer underneath. Other services offered by estheticians include chemical peels, eyelash extensions, lash lifts, and other special treatments meant to improve the look and feel of the skin. 
1. Skin Care Services
If you want to improve the way your skin looks and feels, a skincare routine is a must. Having an esthetician teach you tricks can help you maintain a healthy and glowing complexion for the rest of your life. An esthetician can help you choose the skincare products and treatments that can best suit your skin type.
Facials: Facials are a popular skincare service offered by estheticians. A facial is a type of skin treatment that exfoliates the skin, removes blackheads, and helps hydrate the skin. During your facial, an esthetician will cleanse your face, extract blackheads, and apply a mask to help hydrate your skin.
Chemical Peels: Chemical peels are used to help improve the appearance of your complexion by removing dead skin cells, improving your skin's texture, and boosting collagen production to improve the look of fine lines and wrinkles. Chemical peels can be performed in-salon, in-office, or at home.
2. Hair Removal Services
For some people, shaving or waxing is the only way to remove unwanted hair. This is the most common way we remove unwanted hair from our bodies, but it isn't the best. Hair removal is a great service provided by estheticians, but keep in mind that not all hair removal methods are created equal. 
Waxing: Hair removal by waxing is one of the most popular methods of hair removal, especially among women. Waxing uses a sticky wax that is applied to the skin and ripped off quickly to remove hair from the surface of your skin.
Hair Removal Cream: Hair removal creams, including Nair and Veet, are one of the most convenient ways to remove unwanted hair. This hair removal method uses a chemical to remove hair from the root, meaning your hair will grow back far less quickly than it does after waxing.
3. Makeup Application
If you're interested in learning how to do makeup, an esthetician can teach you the tricks of the trade. If you're not interested in learning how to apply makeup, you can also hire an esthetician to do it for you. Some estheticians are makeup artists who specialize in applying makeup for special events such as weddings. 
Brows: First, an esthetician will examine your brows and determine whether they need to be tamed or reshaped. They'll use different tools to groom them and make them look the way you want them to look.
Foundation: Once your brows are groomed, the esthetician will use a makeup sponge or brush to apply liquid or powder foundation to your face. They'll use a color that matches your natural skin color perfectly and helps conceal blemishes and other imperfections in your skin.
Requirements to become an esthetician
An esthetician is a specialized cosmetologist who focuses primarily on skincare and its treatments. To become an esthetician, one must first become a cosmetologist. Estheticians are required to have a high school diploma or equivalent and then attend an esthetician program. Esthetician programs can be as short as nine months or as long as two years. 
Many cosmetology schools allow students to specialize in skin care and become estheticians after completing their general cosmetology training. It is also possible to become an esthetician by enrolling in a skincare program that offers a certification after completing the program. 
There are two examinations that estheticians must pass in order to become licensed. The first is a state board examination, and the second is a National Certification Examination.
How to Become an Esthetician?
First, you must become a cosmetologist. To become a cosmetologist, you must attend a state-approved cosmetology school for a minimum of 9 months and 1,800 hours. Most cosmetology schools offer a specialization in skin care, meaning they offer training in esthetician techniques. 
Completing a general cosmetology program is required in order to take the state board examination and be fully certified as an esthetician. After passing the state board examination, one then takes the National Certification Examination to become a certified esthetician. Once you have passed both examinations, you must apply for licensure with your state board.
Conclusion
An esthetician is a specialized cosmetologist who focuses primarily on skincare and its treatments. To become an esthetician, one must first become a cosmetologist and then pass two examinations. 
There is a high demand for qualified estheticians, and the field continues to grow. Estheticians provide a variety of services meant to improve the appearance of the skin. They conduct skin care treatments, including facials, microdermabrasion, and skin analysis. This makes the job of an esthetician immensely rewarding.
Additional Contents