Snakes can make great pets because they're easy to take care of, quiet, and don't need a lot of attention. If you're a first-time owner of a pet snake, you might feel unsure about how to take care of it properly. 
One of the essential steps in providing a healthy environment for your snake is to create a suitable living space. To ensure your pet's well-being, it's crucial to replicate its natural habitat as closely as possible. 
To help you take the best care of your pet snake, we have prepared a detailed guide. In this blog post, we will guide you on proper snake care, the different types of snakes that are commonly kept as pets, and important factors you should keep in mind before deciding to adopt a pet snake. 
Let's get started by looking at the types of snakes people mostly keep as their pets.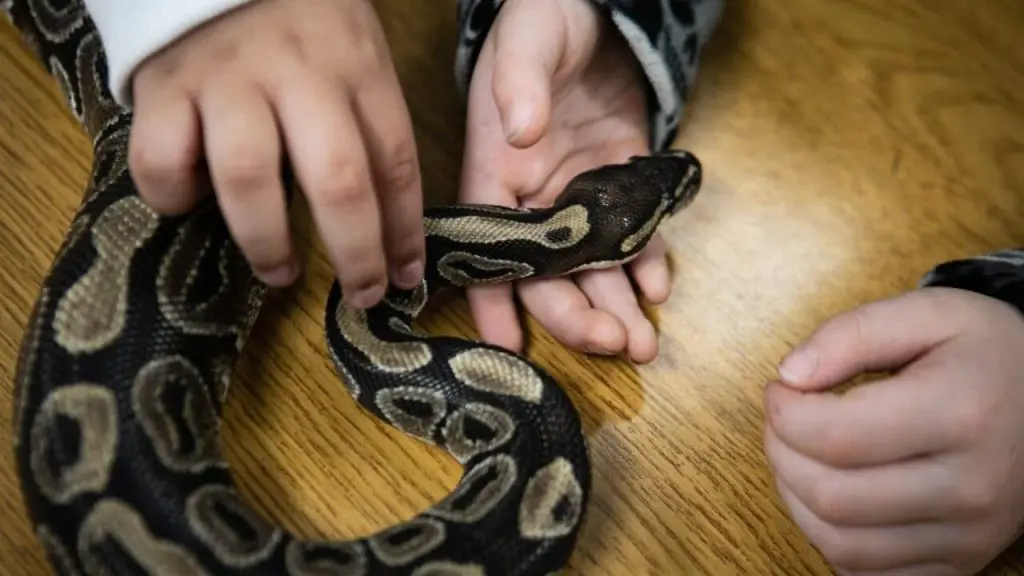 1. Types of snakes people keep as pets
For those who are interested in keeping snakes as pets, there are several species that are commonly chosen. 
The Ball Python is a popular option for beginners due to its calm disposition and relatively small size.
The Corn Snake is another good choice for novice owners, as it is easy to care for and comes in a wide range of colors and patterns.
Kingsnakes are also well-suited for beginners, as they are generally easy to handle and care for. 
In addition, the Milk Snake is a more high-maintenance option, known for its active and colorful nature.
Boa Constrictors are larger snakes that require more space and care but are known for being fairly docile.
Carpet Pythons are a large and active species that require a lot of space, making them less suitable for beginners. 
Garter Snakes are small and active and can be kept in groups.
Finally, the Rosy Boa is a small and docile snake that is well-suited for those with limited space.
2. Things to Consider Before Getting a Pet Snake
In this section, we look at the commitments, legal requirements, and adapting to a snake's habitat before trying to pet them.
2.1 Legal Requirements
If you're considering getting a pet snake, it's important to take some factors into consideration before making a decision.
One of the first things to look into is whether it's legal to own a snake in your area. Some cities or states may have specific laws or regulations regarding snake ownership, and certain species may require permits or licenses to own.
2.2 Commitment 
Another important factor to consider is the level of commitment required to care for a snake. 
Snakes can live for many years, so it's crucial to be prepared for a long-term commitment.
Depending on the species, some snakes can live up to 30 years or more, so you need to be sure you're ready for that kind of responsibility before getting a pet snake.
2.3 Habitat setup
Aside from legal requirements and commitment, you should also consider the space and habitat requirements for the type of snake you want to get.
The best living conditions for your pet snake will depend on what type of snake you have because they all have different requirements.
Here are some basic tips you can use as a starting point:
Req 1: Enclosure Size and Type: 
To properly house a pet snake, you must consider the size and type of enclosure needed to be based on the species, size, and behavior of the snake. 
The enclosure should be at least 1.5 times the length of the snake, allowing for easy movement and stretching. It should also be escape-proof with a secure lid or top, and common enclosure types include glass terrariums, plastic tubs, and custom-built wooden enclosures.
Req 2: Heat and Lighting
As snakes are ectothermic, they require external heat sources to control their body temperature. 
To provide the ideal conditions for your pet snake, you need to ensure that the enclosure has a temperature gradient, with one end being warmer than the other. This can be achieved through the use of heat lamps, under-tank heaters, or heat tape. 
The specific temperature and humidity requirements will vary depending on the species of snake, so it's essential to do some research on the specific needs of your snake.
Additionally, some snakes require UVB lighting to help with vitamin D synthesis and overall health.
Req 3: Substrate Options
The substrate is the material used on the floor of the snake's enclosure. Common options include aspen shavings, cypress mulch, coconut fiber, and newspaper. 
It's important to choose a substrate that is safe for the snake to burrow in and easy to clean and replace when needed.
Req 4: Water
Provide fresh, clean water for your snake at all times. Change the water regularly and ensure that the water dish is large enough for your snake to soak in if needed.
Req 5: Decorations and Hiding Spots
As solitary creatures, snakes seek out secluded spaces to retreat to and feel safe in when faced with danger or stress. You can create natural hiding places for your pet snake by adding rocks, branches, or artificial plants to its enclosure.
It's important to ensure that all decorations are secure and do not pose any risks to the snake, such as escape routes or potential hazards.
By creating a safe and natural environment, you can help your snake feel more comfortable and at ease in their home.
3. How To Take Care Of Snakes?
Taking care of a pet snake requires careful attention and knowledge of its unique needs. 
Below we have discussed a detailed guide to help you provide the best care possible for your snake.
3.1 Temperature
Snakes are cold-blooded creatures, so they rely on their environment to regulate their body temperature.
The exact temperature range will depend on the species of snake, but generally, the warm side of the enclosure should be around 80-85°F, while the cooler side should be around 70-75°F. 
It's very necessary to have different temperature areas in the place where you keep your snake, so they can go to warmer or cooler areas when they want. 
You can use a thermometer to check the temperature and a heating pad or a heat lamp to make the areas the right temperature.
3.2 Feeding 
Feeding your pet snake correctly is vital to their care, as they are meat-eaters and require rodents, birds, or other prey animals in their diet.
To ensure that your snake gets the right amount of food, you should offer prey that is the appropriate size for your snake's age and species, typically once a week. 
Watching your snake hunt and eat is an exciting and impressive display of their natural instincts. By providing a balanced diet, you can help ensure your snake stays healthy and lives a long life.
3.3 Handling
When handling your pet snake, it's important to be gentle and calm and to approach it with confidence. Snakes can sense fear or uncertainty and may become defensive if they feel threatened. 
It's also important to support your snake's body properly when holding it, as it can be quite fragile. You should avoid sudden movements or loud noises that could startle your snake, which could lead to it biting or becoming agitated. 
By treating your snake with gentleness and consideration, you can establish a healthy and affectionate bond with your pet.
3.4 Health
Snakes can be prone to a variety of health issues, such as respiratory infections, parasites, and injuries. If you notice any signs of illness, such as lethargy, loss of appetite, or difficulty breathing, it's important to seek veterinary care immediately. 
Prevention is key to keeping your snake healthy, so make sure to provide a clean and well-maintained enclosure and avoid exposing your snake to potential sources of infection.
Conclusion
In this article, we have provided a thorough guide on how to care for your beloved snake and essential factors to consider before adopting a pet snake, tips on setting up its habitat, and advice on keeping it outdoors.
We hope this information will prove useful to you and help you provide the best possible care for your scaly companion. Thank you for taking the time to read and learn with us.
FAQ's
How to take care of snake bite piercings?
To take care of snake bite piercings, you should clean the piercing twice a day with saline solution or a mild, alcohol-free antiseptic mouthwash, avoid touching or twisting the jewelry, rinse your mouth with salt water after eating or drinking, apply ice to reduce swelling, avoid swimming or submerging the piercing in water for at least 4-6 weeks, avoid spicy or acidic foods for the first few days, and not remove the jewelry until the piercing has fully healed, which may take several months.
How to take care of snake plants indoors?
To take care of a snake plant indoors, you should place it in a well-draining pot with a light potting mix, water it only when the soil is completely dry, and keep it in a bright, indirect light location. 
Snake plants can tolerate low light and drought conditions, making them low-maintenance plants. Additionally, you should avoid overwatering and fertilizing, and trim any dead or damaged leaves to maintain the plant's health and appearance.
Is Keeping an Outdoor Snake Right for You?
Keeping a snake as a pet can be a rewarding experience, but requires a significant commitment to providing proper care and environment. Keeping them outdoors requires research into the specific needs of the snake species, as not all are suitable for outdoor living.
You need to ensure the outdoor enclosure is secure, provide access to shelter, and be prepared for regular maintenance and additional care during extreme weather conditions.
Finally, consider your experience and comfort level with keeping snakes and understand the requirements for maintaining an outdoor enclosure before making a decision.
How do I provide enrichment for my snake?
Provide items for your snake to climb on, such as branches or rocks. This will help to stimulate their natural behaviors and keep them active and healthy.
Additional Posts: