When it comes to the animal kingdom, Tigers are one of the most feared and revered creatures. They're known for their strength, power, and majestic stripes. But how much do they weigh? And what else do you know about these amazing animals?
In this article, we will discuss how much does a Tiger weigh? Continuing, we will discuss their appearance, weights of different tiger species, Tigers, and their stripes. How they can be a threat to humans? and finally, some mind-boggling facts about Tigers.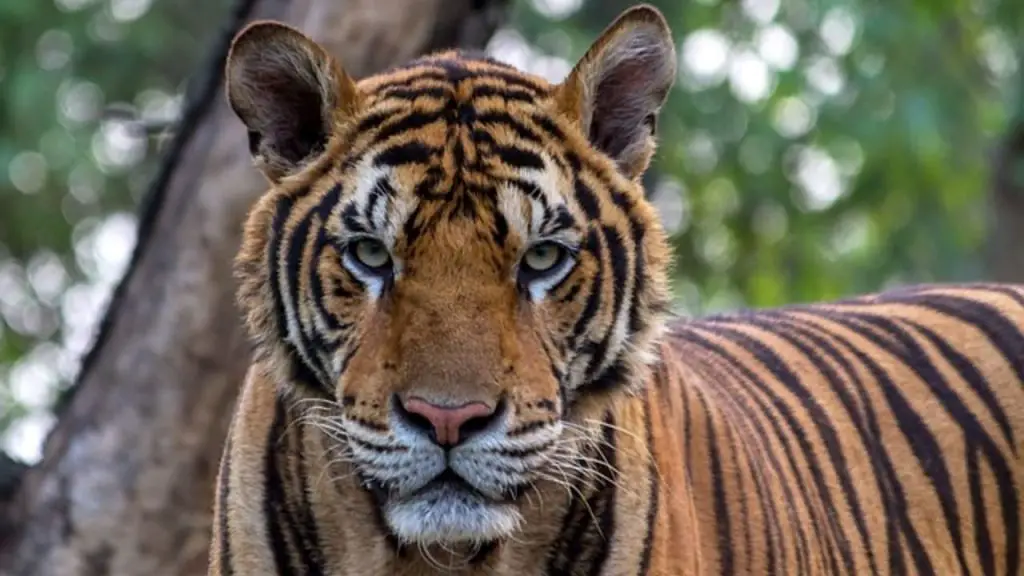 So, how much does a Tiger weigh? The average weight of a full-grown Tiger is between 500-700 pounds. Some of the largest Tigers on record have weighed in at over 1000 pounds!
The Appearance of the Tigers
Tigers are characterized by dark vertical stripes on orange-brown fur, with a lighter underside. The color and pattern of a tiger depend on its subspecies and location.
While many continental tigers have pale orange fur with few markings, the smaller Sunda tigers have densely striped, dark fur.
Tigers may also be black with tan stripes, all white (albino), or white and tan. In some zoos, there are "white tigers," which are not albino but rather a variation of the white-and-tan color pattern with blue eyes.
According to the San Diego Zoo, true albinos are quite rare and have pink eyes.
Tiger patterns are distinctive for each individual. Their stripes are as unique as human fingerprints. Most tigers have more than 100 stripes.
In the wild, a tiger's markings serve important purposes like camouflage and appearing as moving shadows in long grass and trees. This aids in hunting food.
Although they are orange and appear to stand out in the dark green grasslands and jungles, this is not the case.
Many hoofed animals are unable to see every color that humans can see – so those colors blend together and appear green to the prey.
As we are talking about appearance, we came across the stripes. Let's take a quick note of it. As discussed above, tiger stripes are as unique as a human's fingerprint.
This aids researchers in identifying and distinguishing tigers in the wild. But, is it just the fur or the skin? When a tiger's fur was removed, the skin beneath it had the same striped pattern as well.
Weight of Different Species of Tigers
There are numerous species of tigers in the world, each with its own set of characteristics. The following is a list of some of the most common types and their average weights.
If you're searching for "how much do tigers weigh" – it will depend on the sort! Each variety is distinctive, with different weights and even qualities.
Keep in mind that, while these "normal" ranges are quite robust, there are still some tigers that fall outside of them! These are speculative ranges based on the tigers researchers have discovered in the wild.
Indochinese Tiger
The Indochinese tigers are one of the world's largest cats, weighing in at roughly 330 to 430 pounds for adult males and 220 to 290 pounds for adult females.
The Indochinese tiger is an extremely endangered species, with the greatest number remaining in Thailand. There are believed to be fewer than 350 left on this planet.
Bengal Tiger
The Bengal tiger is the most well-known of all the species. The normal height of a Bengal tiger is approximately 30 to 40 inches tall. A German shepherd dog, on the other hand, measures about 26 inches in height.
These creatures are truly enormous, weighing in at around 0.45 to 0.5 U.S. tons. One Bengal shot by a hunter weighed more than 850 pounds and several others have been measured in the 600-700 range.
The average weight of an adult male, on the other hand, is usually 400-500 pounds. Female tigers are often smaller, but they are still enormous. Their typical weight varies between 210 and 350 pounds.
Siberian Tiger
Another tiger subspecies that frequently come up is the Siberian tiger, which is also known as the "Amur tiger." While the Bengal is larger, this creature isn't any less huge.
The Siberian tiger is a huge cat that can weigh up to 600 pounds for males and 360 pounds for females. In captivity, they tend to be larger. The average weight of wild felines is approximately 300 pounds for females and 470 pounds for males.
These tigers, on the other hand, have actually reduced their weight over time, according to research. A lot of it is due to the scarcity of food caused by illegal hunting.
Other Species
The South China tiger is a smaller kind of tiger. This creature grows to approximately 280-380 pounds for males and 220-250 pounds for females. Male Malayan tigers seldom weigh more than 220 pounds.
The Sumatran tiger, which is another type of tiger, has an average weight of only around 160-240 pounds for females and 220 to 300 pounds for males.
Potential Threats for Tigers
Human activities have destroyed and damaged their habitat. Tigers require a large amount of space for survival since to their territoriality and wide range of sizes.
People have been encroaching on the territory of big cats for years. Because people and tigers compete for space, there have been more confrontations between them as humans move into their area.
When forests shrink and prey becomes less common, tigers are forced to leave protected regions in search of food, resulting in a greater likelihood of conflict with people. A tiger may hunt farm animals, which can result in the capture or death of the animal.
Furthermore, the illegal wildlife trade is a significant threat to tigers. Their body parts are used in traditional Asian medicine, and their skins are coveted as trophies. As a result of this demand, tigers are being poached at an alarming rate.
It is estimated that there are only around 4000 tigers left in the wild. If we don't take action soon, these magnificent creatures could disappear forever.
Another hazard to wild tigers is climate change. For example, the Sundarban Tiger population, a unique tiger species found in the Sundarbans, a huge mangrove forest region shared by India and Bangladesh along the Indian Ocean coast, is being threatened by rising sea levels.
These woodlands may be flooded as a result of climate change, potentially eliminating the last remaining habitat for this incredible feline species.
Also, as the world's human population continues to grow, the demand for land and resources will continue to increase. This will likely result in further habitat loss and fragmentation, as well as an increased risk of conflict between humans and tigers.
Some Mind-Boggling Facts About Big Cats
Let's dive into the life of tigers and see what makes them unique.
The Punch: Leaving aside the Tigers' enormous physique, just consider their front hands/legs: if you have a pet Tiger and a terrible enemy, you may as well get them into a fist fight.
Kidding, it's against the law to own a tiger as a pet! It is claimed that one chop from a Tiger's front paw is sufficient to kill someone or an animal, or at the very least shatter bones.
Nocturnal Creatures: It's not necessarily true that all Tigers are nocturnal, but they do like to spend most of their hunting activities at night.
Tigers want to avoid human conflict during the day and patrol their territory at night because this helps them protect themselves from harm.
Love Swimming: They adore swimming for hours and are attracted to water. Cubs and female Tigers assist or teach their young how to hunt, which gives them the capacity to hunt in the water as adults.
It is claimed that they can swim for several kilometers as adults and even claim one swam 30 km in a day when adults.
Ambush: The group of a tiger is known as a Streak or Ambush. The Tigers are put in unnatural situations where they must share or remain put in certain places in a human-made environment when they are referred to as an ambush.
Even a Tigress with her cubs is known as an ambush.
Humans aren't potential threats: Tigers are not killers by nature, but if you look appealing, they will attack (joking). However, we can't dispute the fact that there have been reports of tigers killing people in rural areas, so it's best to avoid their territory.
If you come upon one, it is ideal to walk backward slowly while keeping an eye on the Tiger, as they tend to kill in ambush.
Conclusion
In the end, we conclude that how much does a Tiger weigh? They appear to be very dangerous, with some even man-eating. However, they are an endangered species with only around 4000 tigers left in the wild today.
We discussed how much they weigh, their appearance, some potential threats for tigers, and some mind-boggling facts about them. Plus, how you might want to avoid them if you come across one in the wild.
FAQs
Which is stronger lion or tiger?
The debate over which big cat is stronger, a lion or a tiger, has gone on for years. There is no clear answer as to which one is actually stronger.
Lions and tigers are both apex predators and are at the top of their food chains. They are both incredibly powerful animals with sharp teeth and claws.
Do tigers attack humans?
Tigers are not typically aggressive towards humans and usually only attack when they feel threatened.
There have, however, been a few sightings of tigers attacking and killing people in rural areas. If you encounter one in the wild, it is advisable to avoid their territory.
How much does a Tiger weigh?
The average tiger weighs between 200 and 660 pounds. The largest tiger on record weighed in at over 1000 pounds.
Additional Contents