As an Amazon Associate, I earn from qualifying purchases.
With summer just around the corner and the sun blazing down, you need to protect your eyes from the sun. UVA/UVB rays can be harmful and even damage the eyes permanently. High-quality sunglasses that block UV should be on the top of your shopping list.
Sunglasses can be a hassle to carry and keep track of. However, many brands have a solution, bamboo-framed glasses. These are stylish and lightweight so much easier to carry around. They are so light that when you lay them on your head when not in use. You may just forget about them and think you misplaced them.
With so many brands and styles selecting a pair for yourself is not an easy process. That is why we did the research for you. We have reviewed the top 7 bamboo sunglasses. These glasses are not only beneficial for the environment but also protect your eyes from the harsh rays of the sun.
Benefits of Bamboo Sunglasses
Handcrafted using eco-friendly bamboo
​Lightweight, frames float in water
​Sturdy, bamboo is a strong material
Very stylish
| | | | |
| --- | --- | --- | --- |
| | Name | Rating | Cost |
| 1 | Tree Tribe Polarized Laminated Bamboo Wayfarer Sunglasses | 4.8/5 | $$$ |
| 2 | Designer Wayfarer Style Polarized Glasses by Tree People | 4.75/5 | $$$ |
| 3 | Coronado Wayfarer Style Polarized by Make Wear | 4.7/5 | $$$$ |
| 4 | Woodies Bamboo Wayfarer Style Sunglasses | 4.65/5 | $$$$ |
| 5 | JULI Mens Womens Fashion Wayfarer Wood Bamboo Printed Wrap 52MM Sunglasses | 4.5/5 | $ |
| 6 | Treehut Wooden Bamboo Sunglasses Temples Classic Aviator Retro Square Wood Sunglasses | 4.3/5 | $$$ |
| 7 | zeroUV – Polarized Genuine Bamboo Wood Horn Rimmed Sunglasses and Case | 4.1/5 | $$$ |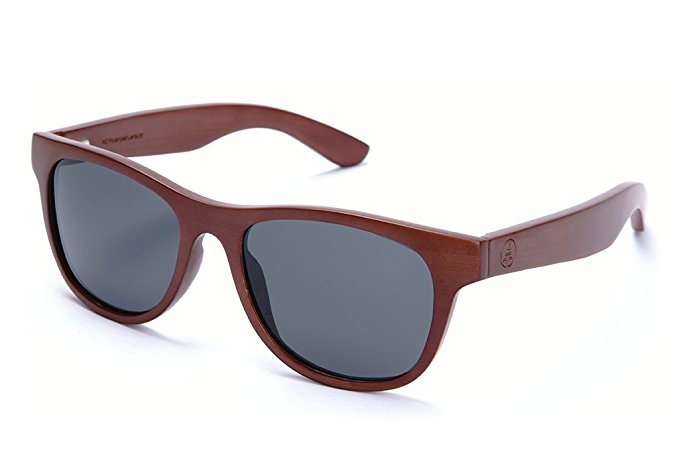 Tree Tribe is known to produce products that are environmental friendly and represent the Earth. For every pair purchased Tree Tribe pledges to plant 10 trees.
The glasses are hand crafted from thin layers of bamboos and stainless steel hinges, making them durable. The company uses certified polarized, glare proof lenses which protects you from UVA/UVB rays. No more squinting when you are out on the beach.
It comes with a sleek bamboo case, so you can safely store them and carry them around with you.
Tree People manufactures their sunglasses from the highest quality of eco-friendly bamboo. The Designer Wayfarer are stylish and sturdy making them an excellent choice for your next pair of sunglasses. The anti-glare polarised lens protect you from glares and harmful rays. They are so light that they even float in water.
The Wayfarer are crafted to perfection. They are better suited for those with larger crown, so we wouldn't recommend them for individuals with head below the average size. They will give you perfect vision and still look fashionable on a sunny day.
The Coronado by Make Wear stands out in the list as the only pair of glasses that are completely dark stained. They frames will give you the suave, cool feel. The lens on the glasses are tinted black protecting your eyes and giving you crystal clear vision.
The glasses overall will definitely awaken your spirit while you take a stroll on the beach. As others will look at you enviously.
The Woodies Bamboo Wayfarer combines bamboo with plastic. The arms of the sunglasses are made out of bamboo whereas the frame is plastic. The two materials blend well given a nice, vintage style.
Using polarized lens, the glasses will surely protect your eyes from the rays. They will also enable you to have crystal clear vision as they are anti-reflection and anti-glare. They are rigorously tested to guarantee safety for your eyes.
JULI's Bamboo Wayfarer are sure to help you stand out in a crowd with its flair. The well-crafted pair of glasses are made from eco-friendly bamboo and has a plastic frame. JULI used resin lens which aid in blocking glare and also harmful rays.
The glasses are very stylish and the most affordable pair on the list.
Treehut promises sunglasses that are long-lasting and sturdy. The material used in their glasses can withstand both cold and hot weather. They are also quite comfortable. The Bamboo Aviator Retro are no exception. For all aviator fans these are definitely a pair of glasses you should consider. They are skillfully handcrafted and high-grade lenses are used, which allow you to go out in the sun without having to worry about harmful rays affecting your eyes.
The arm of the glasses are made of bamboo which is durable and rust-free.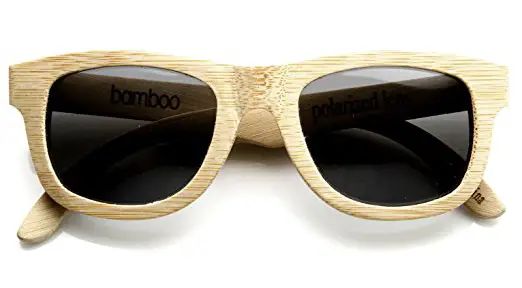 zeroUV Bamboo Sunglasses are protective and trendy. They are unique, created with a plastic lens and frame, while also genuine bamboo. The lens are tinted black so protect you from UVA rays, reducing glare, while staying trendy.
The glasses come with a genuine bamboo casing with every purchase. Providing protection to the glasses when you store them and also allowing you to carry them in your bag with ease.
So with your homework done, what are you now waiting for? You can purchase any of the above bamboo made sunglasses and rest assured you are getting long-lasting glasses that protect your eyes from the sun while also providing you with crystal clear vision. The best part it, bamboo is very eco-friendly as it requires no water to grow while no chemicals or harmful process is employed to cut them down.
Amazon and the Amazon logo are trademarks of Amazon.com, Inc, or its affiliates.