As an Amazon Associate, I earn from qualifying purchases.
Dogs are very playful animals. They run in and out of the house and are always on their feet. Which means that with the rigorous use of their legs there is a higher chance that they can have an injury that affects the area. ACL and CCL tear are two serious leg injuries that can occur and they have a significant impact on the movement of the dog. There are measures you can take to prevent, in case your dog has a minor injury, or to treat/recover from leg injuries. Using a leg brace is often recommended if you do not opt for surgery or to help the dog recover after surgery. We tested numerous leg braces and have picked the 3 best dog leg brace.
Rating:
Cost: $$$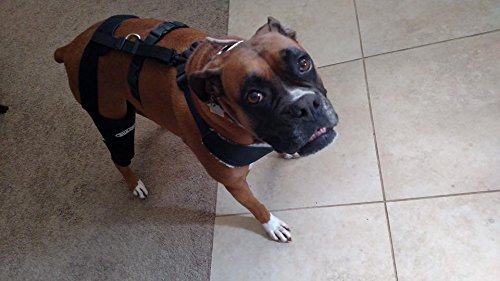 The Cruciate Care Knee Brace has a comfortable design to support dogs that have suffered a torn ACL, a limping back leg, arthritis, canine knee sprain, any postoperative support or stabilization. It can also be used to immobilize the knee due to any knee problem, if needed.
Torn ACL is often the most common injury amongst dogs. Often requiring surgery to repair, dogs are required to rest and not move around too much. The Cruciate Care Knee Brace provides your dog with support, stabilizing the leg and knee both before and after surgery. You can also use the brace to ease the pain when the dog attempts to walk when surgery may be feasible or necessary. Leg braces are recommended so force is not applied on the knee when a torn ACL occurs. If not treated or supported there is a good chance that more force will be applied on the other knee with a high chance of injuring that also.
With the Cruciate Care Knee Brace, you can stabilize the injured leg or knee while also the back and hip as it provides a support for those also. It has a one of a kind butterfly design which aids the dog from limping due to its anchor leg brace and the knee brace which provide excellent support as the dog walks.
The brace may seem complicated but there is a 7 step process guide included with the brace which makes it a fairly simple process, we had no trouble with it. The brace is mostly made out of mesh and nylon making it quite comfortable for the dog to wear. The price for the brace maybe a little high but it is definitely worth it due to the comfort and support provided.
Pros
Excellent support for the knee, leg, and lower back
Soft, comfortable material
Protective design
Cons
2. Hero Brace
Rating:
Cost: $$$$$
Hero has been making braces for over a decade now. They emphasize on product quality and exceptional support for injured dogs, making it easier for them to walk. The Hero Knee Brace is modeled after human knee braces while adapting it for dogs, since they have a different style of walking.
Fabric braces tend to stretch and wear out with excessive use. Hero uses co-polymer plastic design on its knee brace. The material doesn't stretch and provides better corrective force. It is also waterproof and more durable than fabric. They provide a "Life of Dog" guarantee for the brace, meaning the brace joints and plastic on the brace will not fail. Making it a smart investment. It is custom made to fit your dog.
Pros
Long-lasting material (Life of Dog warranty)
Provides support to knee and leg
​Easy to put on and comfortable
Perfect fit as it is custom made for your dog
Cons
Rating:
Cost: $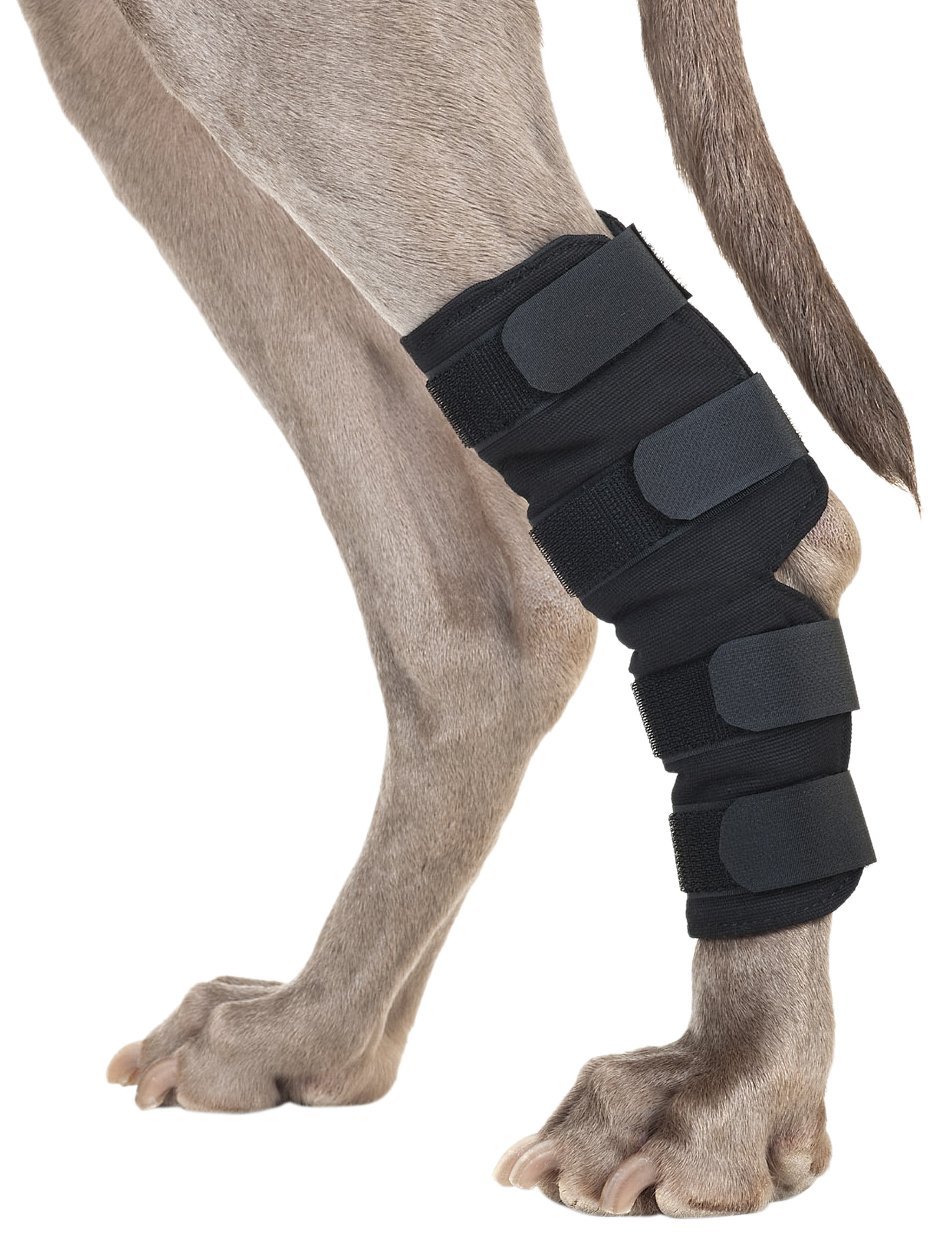 Many dogs that have an ACL tear can recuperate on their own, giving that they are prevented from climbing stairs or running too much. It can take about 6-8 weeks but given the proper care and support they can heal. Back on Track's therapeutic brace provides proper support to the knee and the rear part of the leg which allows the dog to walk without relying too much on it. Allowing that particular area of the leg to rest. The product has been proved to reduce chronic inflammation and pain and is recommended for both prevention and recovery from an injury.
Back on Track Therapeutic Dog Rear Leg/Hock Brace is made of Welltex fabric with ceramic particles and has a neoprene outer shell. Allowing it to really attach, sort of hug the leg for optimal support. It has four velcros attached so you can securely wrap it around the leg. The brace comes in three sizes so you can pick one according to the size of your dog.
The product is very reasonably priced and can be a great alternative to surgery, but make sure to provide proper medication (if needed) and allow your dog to rest for a speedy recovery.
Pros
Affordable
Provides support for the knee and leg
Adjustable fit, velcro allows you to tighten or loosen the support
Cons
There have been complaints regarding the sizing of the product, the size advertised isn't accurate
With that we end our list. The top two leg braces mentioned can be swapped, however since the Ortho Dog Cruciate Care Knee Brace is more affordable than the Hero Brace, we decided to rank it higher. As far as support goes both provide an equal amount. So with that we wish your dog a speedy recovery!
Amazon and the Amazon logo are trademarks of Amazon.com, Inc, or its affiliates.